While I was working on my fitness last evening, my eye (yes, only one) was drawn towards the Republican debate on CNN. It made me ponder what celebrities would be able to run this country…dare I say…better than any of those gems rambling on the TV…oops, can't say that!
Away we go!
Geena Davis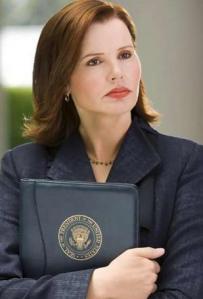 Photo Courtesy: mediabistro.com
I chose Geena because she gives me that Hillary Clinton vibe…strong, yet caring and can look good in a pantsuit. Geena would be a good candidate because she already has experience running the country. No, I am not fabricating history; she was the first female president on the television show "Commander in Chief."
The show aired on ABC from Sept. 2005 until June 2006 and it was wrongfully taken off the air after 18 episodes. Geena was kicking ass and taking names in the Oval Office while taking care of her three kids in her off time. Now that's multitasking.
Fun Fact: Sandy Berger, a former National Security Advisor for the Clinton Administration, was an advisor on the show.
Geena successfully dealt with such issues as a sneaky Speaker of the House vying for her presidential position, terrorists, natural disasters and two teenage twins throwing a party in the White House!
Geena played the role of Madam President so well that she was honored with a Golden Globe for Best Actress in a Television Series Drama. So if she can win a Golden Globe pretending to be the president…it's only logical to assume that she would kill it as the real president. Team Madam President Geena!