The E! network is running ads for a "Seasons-So-Far" marathon. It's purpose…to catch me up with the Kardashians…obvi. Because E! never, ever airs repeats of "Kourtney & Kim Take New York," I'm grateful to the executives at E! for giving me this Xmas miracle.
As you all know, I am destined to work for E!, so why not start giving them a few of my reality show suggestions now. Here is my second pick for Celebrities I Wish had a Reality Show.
Katie Holmes and Tom Cruise (TomKat)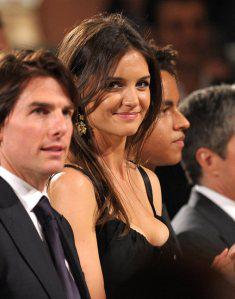 Photo Courtesy: popsugar.com
A show of hands please…who wouldn't want to catch a glimpse into the world of TomKat? My suspicions were correct…everyone wants to know what goes inside the castle of Tom and Katie.
In their home, I imagine a lot of weird strobe lights and L. Ron Hubbard reading the book of Dianetics to Suri…because Tom resurrected him from the dead…duh.
I already know this couple would be great TV. They have already given us so many amazing moments so far. For example, remember when Tom told Matt Lauer he was glib and jumped on Oprah's couch? Okay:
No one has forgotten.
I love Katie Holmes too, but I'm not jumping on couches during the Oprah show. I do it in the privacy of my own home!
Now, we have all heard the rumors that Katie isn't eating because she's depressed, Tom is an out-of-control Scientologist who forced Katie into the cult, Tom is gay, etc. etc. It's a very long list of rumors (or truths) and the only way to find out what's real is by bringing in a camera crew!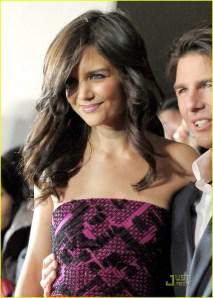 Photo Courtesy: justjared.buzznet.com
I envision the reality show being called "TomKat: Welcome to the Jungle" and it would have to air on E! so there could be a crossover episode with the Kardashians. Mason and Suri could have a playdate while Khloe beats the daylights out of Tom and Rob takes Katie out and shows her a good time.
I'll be honest, I didn't think the TomKat union was going to last this long. I was onboard the U.S.S TomKat because it was supposed to give Katie the boost she needed to gain Oscar glory. Since that has not happened, I am over and done with the relationship…but I would watch the reality show and I would become a Scientologist if they gave me one of those rubbery bracelet thingys.
Katie – Happy belated birthday! I have loved you pre-Tom and I will love you post-Tom. Get it girl.