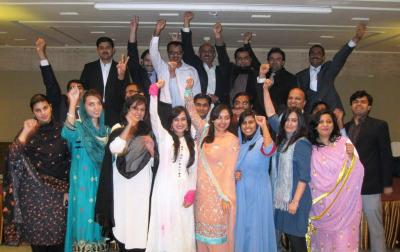 Chamber professional development attendees at a session in Lahore in 2011. (Photo: CIPE)
2013 is a year to remember in the history of Pakistan. For the first time a democratically elected government is completing its five-year term. Although the country suffered from issues such as terrorism, corruption, and weak governance, the participation of women in the democratic process and economy has shown some improvement. For example, in general elections in 1990-91, less than 1 percent of candidates elected to the national assembly were women, a proportion which increased to 22.2 percent in the 2008 election.
Also in the last five years, women's business associations got a voice in the country. Until December 2006, women in Pakistan were not allowed to form women-focused business associations. CIPE worked closely with the Ministry of Commerce to enact a new Trade Organization Ordinance with provisions for the formation of women's chambers. The election of two women members on boards of city chambers was also made mandatory.
Now there are eight registered women's chambers in Pakistan with an approximate membership of over 2,000 women entrepreneurs and business owners. As part of CIPE capacity building program, several workshops and consultative sessions have been conducted to help board members learn tools to ensure sustainability, increase membership, and conduct effective policy advocacy.
To analyze the current situation in women's chambers, CIPE Pakistan completed a diagnostic report on women's chambers in Pakistan. Out of eight registered chambers, five are functional and one is under litigation. Chambers interviewed have increased their membership; however they lack in governance, generating sustainable income, and service delivery. CIPE plans to continue working with women's chambers in these areas.
"The formation of women's chambers is perhaps the best thing happened for women entrepreneurs in Pakistan. Despite 51 percent of the population, until 2006, women did not have a voice in the economic policy development, now there are eight registered women's chambers to speak on behalf of their members. We are young chambers, we need to improve our structure to become more active, but we are learning fast." – Shamama Arbab, Vice President, Women Chamber of Commerce & Industry, Peshawar
Despite this, active chambers have been able to pursue the Ministry of Commerce to protect the interests of women's chambers in the process of amendments in the Trade Organization Ordinance of 2006, and they are more active in organizing trade exhibitions for their members and participating in international trade fairs.
Considering women's chambers as effective platforms for empowering women to increase participation in economic policy, these chambers are now being invited by government on various discussion forums. They are also covered by both local and national media representing the issues of women entrepreneurs.
"Government and the development sector now recognize the importance of women's chambers, we are slowly getting engaged in policy debate. To be able to advocate effectively, we need to strengthen our membership and governance within respective organizations. But signs are good, at least five to six chambers have survive for four years. We need to build partnerships with like-minded chambers to create a bigger voice for the women entrepreneurs in Pakistan." – Farida Rashid, President Islamabad Women Chamber of Commerce & Industry
Hammad Siddiqui is Deputy Country Director of CIPE Pakistan.