I've been dreaming about how my husband and I can celebrate Valentine's Day. Since Valentine's Day is all about love, I thought, why not celebrate it in Paris, the City of Love? It's a great idea, right? Paris is where he and I got engaged back in 2007, and later this year we will be celebrating our 5th wedding anniversary. He has time to make the arrangements, and trust me, I can be packed and ready to go before he can finish booking us with first class airline tickets!
I'm imagining how romantic it would be to return to Paris for Valentine's Day and re-create that memorable trip of 2007! This time, however, we'll add a few extra indulgences for the trip. For instance, we'll stay at a luxurious hotel and have dinner on the terrace of our suite, which of course has a view of the Eiffel Tower. I'll be wearing a fabulous red designer gown, bedecked in champagne diamonds. The champagne we drink will be Laurent Perrier Cuvee Rose, the champagne we had at our wedding.  The roses my husband gives me will be pink, as I'm not a huge fan of red roses.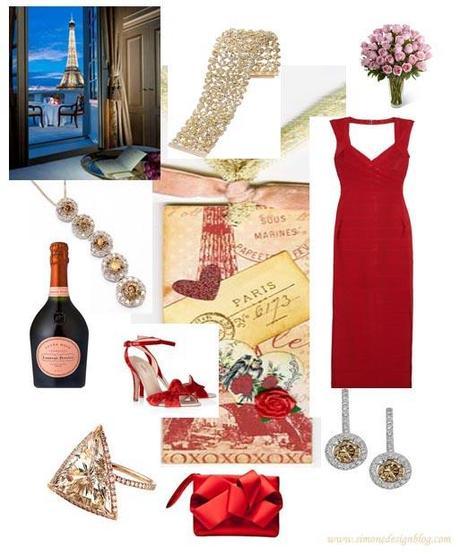 Images: Pinterest
Alas! It's just a dream, but a girl can dream, can't she?
I hope you all have a wonderful Valentine's Day and your day is filled with unexpected surprises that are both fun and decadent.
Simone