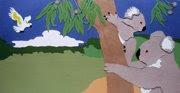 Baby Koala's First Climb
Limited Edition Giclee Print, Signed and numbered.
Printed on archival paper. The art is 10 1/4 by 20 inches with a 1 inch white border.
The original illustration was created in cut paper collage for pages 12-13 of A Koala's World, written and illustrated by Caroline Arnold, published by Picture Window Books, 2008.
Happy Thanksgiving! Today is the ninth anniversary of my first post on this blog, an announcement of my new art prints at
Etsy
.
I was inspired to create the blog after hearing a talk at the SCBWI LA Writer's Day. After a few posts I let the blog go dormant, but then in the fall of 2010 I revived it. Since then I have published nearly 500 posts--on average once a week, usually on a Wednesday. Each year the readership has grown, with a total number of pages viewed now at more than 150,000.
Thanks for visiting!
If you haven't signed up to receive the blog by email, consider it! It will be delivered each week to your mailbox.