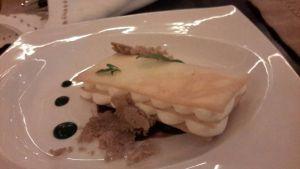 Very few times are restaurants named such that the name fits like a glove. Ottimo in Italian simply means excellent and that is certainly the case with this newly opened restaurant in ITC Maurya, New Delhi.
Ottimo boasts of a menu designed by the Italian-Australian Chef Vittorio Greco whose passionate and gregarious nature leaves a lasting impact on the food he so lovingly creates. The unique charm of having a "restaurant in a kitchen" as the chef describes it leaves you with a feeling of getting pampered at a friend's place.
As soon as you walk in, you cannot miss the Ottimo Square, a large twelve seater community table with a huge wrought iron chandelier in blue right above where all those dining alone are encouraged to sit together - it would also be fit for large groups or corporate meals. There is live music and the chefs can be seen in action creating magic for your plate in the show kitchen. While the inside can seat fifty people, there is outside seating for another fifty. There is a stone pizza oven, a tranquil water body and a vertical herb garden and an unrivalled view of Delhi's lush green ridge from the al fresco area.
One can take a pick from Ottimo's refreshing Italian a la carte section of antipasti, country soups, hand-tossed pizzas, risottos etc. or create your own four course menu from West View's "offering of the day" including the cold buffet cart, soup, choicest meats grilled to choice and desserts.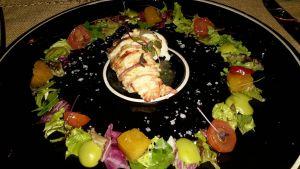 We had no idea what the chef had in store for us as the menu was not shared. And for a change, not knowing really excited me. We started with Lobster Salad with vanilla pineapple, mustard coulis and avocado reduction. Each bite of the lobster had a different taste as I chose to pair it with the pineapple in one, the cherry tomato in the other bite and the avocado reduction in the last. It left the palate asking for more.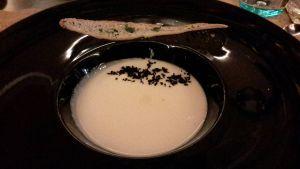 It was followed by the creamy and cheesy Parmigiano Reggiano Soup served with olive dust and a parmesan crisp. This was one soup that I wanted to savour with each sip. I loved it.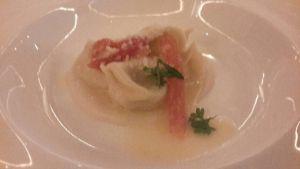 By now I was waiting like a kid for the next treat on offer because things could only get better from here. Next was the Butter and Anchovies Ravioli on a bed of cauliflower puree. The salty anchovy was so beautifully complimenting the sweetness of the cauliflower puree that one could understand why they were paired together.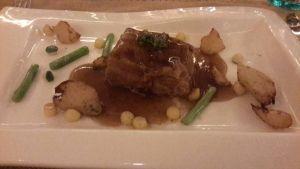 The main course brought with it the Slow cooked pork belly red wine reduction and crackling powder. I would have preffered a crispy skin with the fat rendered off and a sweeter sauce along with it. What was interesting to notice was the amount of labour and thought that went into cutting a zucchini into a roundel so small it resembled a pea.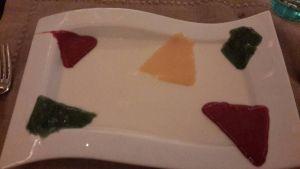 I ended the meal on a high note with Panacotta with Fruit Carpaccio. It was quite a revelation eating this dessert as the panacotta was served in a white dish so was invisible - all I could see was the mango, kiwi and raspberry carpaccio. Once I dug in, I saw this creamy delight waiting to be devoured and I couldn't have been happier.
The bar tender further added to the magic of the evening by creating perfectly balanced cocktails.
Chef Vittorio Greco served us rustic Italian, traditional flavours retaining their simplicity and authenticity with contemporary presentations to create a stellar dining experience for us. It is a perfect place for a family meal to simply celebrate good Italian food.
Ratings (Out of 5)
Meal for Two: Rs 6600 | Wheel Chair Friendly: Yes | Credit Card: Yes | Alcohol: Yes | Timings: 7 pm - 11.30pm, Sunday brunch: 12.30 pm -3.30pm
Address: ITC Maurya, Sardar Patel Marg, New Delhi | Phone: 011-30806291
Disclaimer: This review was done on an invitation from the restaurant. Due judgement and care has been applied by the author to remain objective and unbiased in the review, but readers need to consider this review keeping this fact in mind.