For the third straight year, the American Art Museum will be celebrating Jazz Appreciation Month with a tribute to the Empress of the Blues, Ella Fitzgerald. The performance will take place April 22 and is generously supported by the Ella Fitzgerald Charitable Foundation. D.C.'s own Brad Linde Ensemble has always delivered a special concert just for the occasion. This year we are beyond excited that Brad's vocalist is Christie Dashielle, most recently seen as a contestant on NBC's The Sing Off and member of Howard University's a cappella group, Afro Blue will be the featured vocalist. Public Programs Coordinator, Laurel Fehrenbach, asked Christie a few questions about her career and what Ella means to her.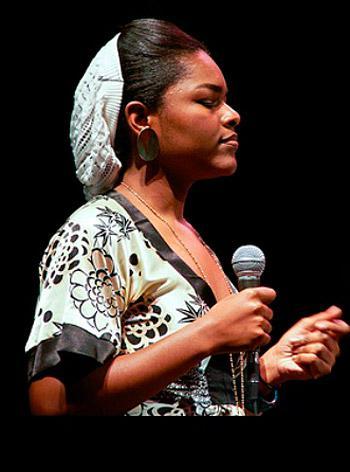 Christie Dashielle
Eye Level: You have such an amazing voice! How long have you been singing? How did you get your start?
Christie Dashielle: Aw thank you! Like most singers say, I've been singing as long as I can remember. I grew up in a very musical household. My dad is a jazz bassist and my mom is a classically trained vocalist. My father toured most of my early childhood, so growing up, music and traveling was all my siblings and I knew. I started out playing violin around the age of 8, but it wasn't until I was about 11 or 12 that I got serious about music and singing.
EL: What was your experience like on the show [The Sing Off]?
CD: The Sing Off was the most intense, emotional, fun, and exhausting time I've ever had! Overall it was a really great experience and I'm so glad Professor Miller allowed me and the other nine members to be a part of it. I learned a lot about music, performing (and dancing in heels LOL), working in a group, and a few new things about the entertainment industry and myself that I never knew.
EL: Since this concert is celebrating the life and legacy of Ella Fitzgerald, how has she influenced you as a young singer today?
CD: Ella was the first jazz vocalist that I ever listened to. My sister and I would go to sleep listening to "Mack the Knife" almost every night! She's influenced me in so many ways, from her overall ability to swing the mess out of anything she sings to, of course, her brilliant scat solos. I've taken a great deal from Ella, and I'm super excited to pay tribute to her with such an amazing big band.
EL: What other artists inspire you?
CD: I love Sarah Vaughan. She may be my all time favorite singer! I'm a huge fan of Wayne Shorter and of all his tunes. Donny Hathaway, Lalah Hathaway, Earth WInd and Fire, Carroll Dashiell, (Jr. and III), Rhonda Dashiell, Connaitre Miller, Jessica Settles...I could go on all day!! I just love music. So many people have served as inspiration to me.
EL: Do you have any big plans for the future? What is coming up next for you?
CD: Well I plan on finishing up with my Masters in the next year while continuing to perform on my own and as a member of Afro Blue Vocal Band. (Speaking of, Integriti Reeves and I will be at Westminster June 22nd. I'm very excited about that show)! I also hope to put out a project soon! I'm really looking forward to what's to come in the near future!