As the nation gears up for football fever this summer, Mars Chocolate has launched their limited edition Mars & Team tub in May. Bringing together five favorites in one special memorabilia tub, Mars & Team includes much-loved Mars Chocolate brands: Mars, Twix, Snickers, Bounty and Milky Way.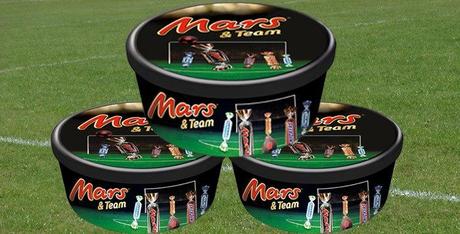 Continuing to ask fans to "Work, rest, play your part", the new, limited edition tub celebrates the longstanding relationship between Mars and football. Last year, Mars renewed its four-year partnership with The FA through to 2018, as part of which it will continue in its role as Official Supporter of the England team.
The launch of the Mars & Team tub will be supported by Mars' significant £3.5m spend on television advertising during the summer of football.
With many millions of people around the globe getting ready to watch this summer's tournament, retailers should make the most of the excitement around one of the world's largest sporting events. As families and friends come together to watch the game at home, it creates a big opportunity for retailers as sharing items are expected to prove increasingly popular.
To make the most of this, retailers are advised to stock up on limited edition products including the Mars & Team tub. Eye-catching POS units are a great way to support the launch of the new range, creating seasonal in-store theater.
Tony Lorman, retail excellence director, commented: "Mars is incredibly proud to have a long heritage with football, and consumers have come to associate Mars with the game.
"The Mars & Team tub is a great opportunity for retailers to tap into football fever during the busy summer period. 83% of all UK adults will be supporting the England team – as fans get set to watch the tournament with friends and family, it opens up more opportunities for retailers. Products such as the Mars & Team tub are a great way to tap into that sharing trend."