VALENTINE'S DAY AT ASCOT RACECOURSE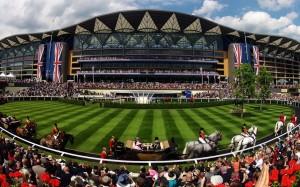 Celebrate Valentine's Day At Ascot Racecourse
Saturday 15th February 2014
The thunder of hooves, the buzz of the crowd, the glorious scenery – what else could get the heart fluttering like a day at the races!
Ascot Racecourse is providing the perfect day out to celebrate Valentine's Day on Saturday 15 February 2014 with their exclusive couple's packages to suit a range of budgets.
Ascot's special Valentine's Day packages include:
Valentines' Couples Package, £50.00 per couple:
This exclusive offer includes two Premier Admission tickets and a complimentary glass of wine each on arrival.
Why not enhance your Ascot Chase Raceday experience even further and dine in one of our premier restaurants.
Fine Dining Package- exclusive offer, £120 per person:
Enjoy the finest three course a la carte menu, impeccable service, spectacular views of the iconic Parade Ring and a lovely bottle of sparkling wine (1 bottle per 2 people).
Ascot Drinks and Ascot Afternoon Tea Packages are also available and can be added to the above.
Tickets can be purchased in advance, prices start from just £15 for Grandstand tickets and £22 for Premier tickets. Tickets on the day will be £25 for Grandstand and £30 for Premier, so book in advance and take advantage of the great savings available to you. Accompanied children under 18 years of age gain free entry at all Ascot meetings.
In addition, any loved up horse racing fans planning to propose this Valentine's Day should be aware that Ascot Racecourse is giving away a free bottle of Champagne to anyone who 'pops the question' on their famous pink bench, situated in front of the grandstand.
The afternoon showcases six top class jump races with the feature race being the Betfair Ascot Chase – a Grade 1 race worth £150,000. It is one of Ascot's best established jump races and often acts as a final outing for horses contesting in the Cheltenham Festival in March.
To book or for further information, please call 0844 346 3000 or visit www.ascot.co.uk
Thanks for reading.
David Ridings