Holi is festival of colors like other Indian festival food is special for in its celebration. So we give you some list of sweets that enjoy in Hoil.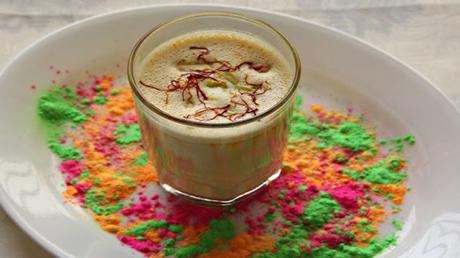 1. Gujiya
Sweet dumplings made of semolina or flour, gujiyas are an absolute Holi treat. It is known as 'karanji' in states of Maharashtra and Karnataka and 'pedakiya' in Bihar. The filling of mawa, dry coconut, almonds, and cardamom coupled with the golden crust of the pastry makes for a mouthwatering delight.
2. Thandai
The thandai has been memorializing by Bollywood in its many Holi. You would not be wrong to consider it as the official Holi drink. The use of bhaang in India dates back to 1000 BC, with it finding mention in the ancient text Atharvaveda. Milk, ghee, and spices provide the base for a thandai, whereas bhaang is prepared by squashing the buds and leaves of the cannabis plant using a mortar and pestle. The paste is then mixed in and the legendary bhaang thandai is prepared.
3. Puran Poli
Puran Poli is a very popular sweet in Holi. It is a kind of sweet, buttery flatbread, and although it resembles a roti in appearance, a poli is actually very different. The stuffing of puran is made from boiling lentils, then mixing them with suger .Cardamom, saffron, and nutmeg are added to the stuffing for additional flavor, and the finished dish is served with ghee.
Bhaang ki Pakori
It is a popular drink prepared during the festival of Holi. According to legend, bhaang is considered to be an auspicious drink which was consumed by Lord Shiva. Give your Holi soiree an extra kick with these high spirited treats.