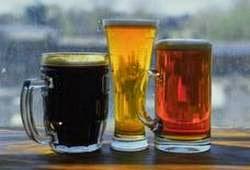 Located in downtown DuQuoin, Illinois, St. Nicholas Brewing Co. invites you to celebrate Craft Beer Week May 11 to 17, 2015.    
Part of the growing craft beer industry offering a wide variety of fresh, quality beer styles, St. Nicholas Brewing Co. will also host a a Mother's Day Brunch on Sunday May 10. As for the brew's, they are offering all their beers brewed on premises at $1 off every pint beginning Monday May 11 through Sunday May 17.
Weekend are the perfect time to visit the brewery that has a variety of specials and live music Friday and Saturday in honor of SIU Graduation. The crew at St. Nicholas Brewing Co. invite Graduates to plan an evening out by jumping on the Amtrak 4 pm train in Carbondale and heading to DuQuoin for a great graduation dinner.
Learn More:
Check St. Nicholas Brewing Co. brews, events, and other details on the brewry by visiting www.stnicholasbrewco.com.