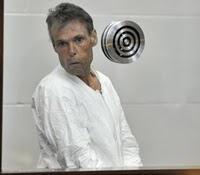 The face of today's CCW holder
Another mentally ill CCW holder:
A

dispute over noise may have preceded the horrifying scene in Brighton on Wednesday when authorities say a shotgun-toting man with a history of mental illness fatally shot a 78-year-old man in a wheelchair at a city-owned complex for the elderly and disabled, then fired at and narrowly missed police and medics.
Remember this the next time Jay Grazio and Andrew Johnston whine about how tough Massachusetts' gun laws are.  Apparently, they're so 'tough' that someone who is so mentally ill that he can't work and is institutionalized can get a CCW permit.