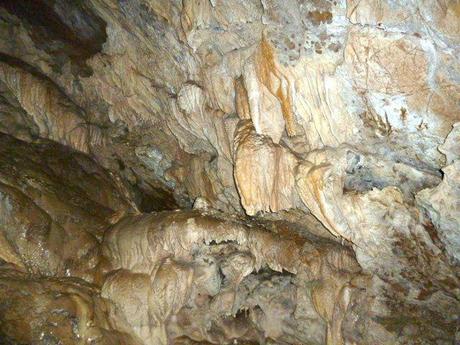 Caving at Horne Lake Caves sounded like the perfect addition for our Canadian honeymoon adventure, which also included kayaking with killer whales, scuba diving, scrambling, plenty of hiking and sightseeing in Vancouver.   We signed up for the 3 hour "Ice Age" Cave Adventure, which included a guided tour of 3 caves.  We were the only participants without children.  Most of the children were 10 and over, so we were fine with that, although secretly a bit disappointed that the presence of children was an indication of a rather tame cave tour.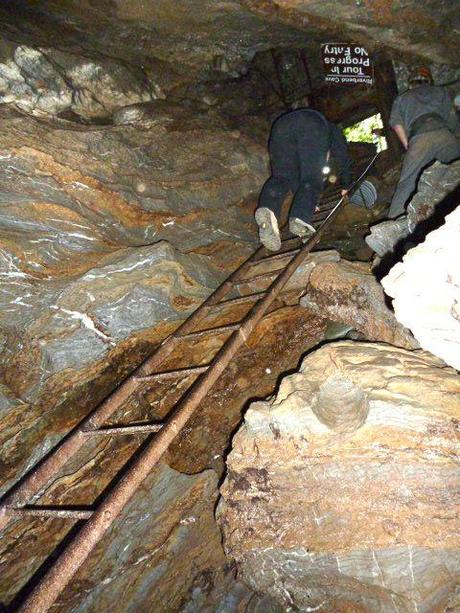 Descending into a cave at Horne Lake.
That though quickly left my mind as we entered the first cave and immediately proceeded down a ladder.  Yeah!  Let the adventure begin!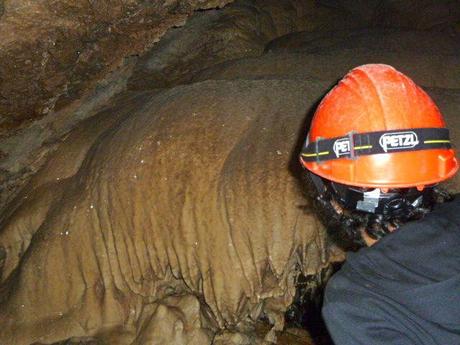 These crystal formations have been damaged by people touching them. Originally they would have been pure white.
Our guide was as geeky, but as lovable as they come and very knowledgeable.  He explained to us how slowly crystals grow and that these crystals had been touched.  As soon as a crystal is touched it becomes damaged from the oils in our hands and changes color.  A healthy crystal would have been white.  This cave was open to the public since the damage had already been done, but other caves were only available on a guided tour.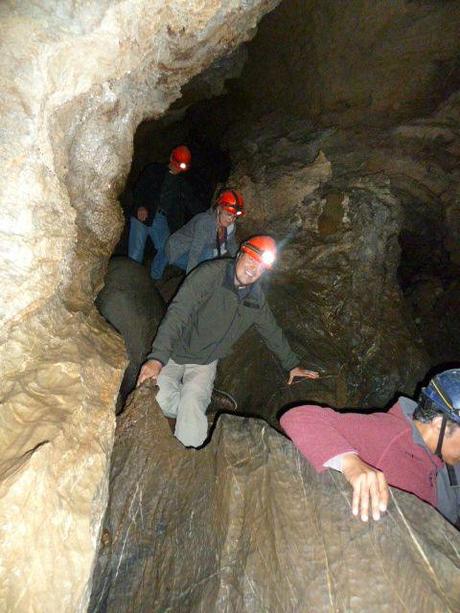 J.P. (my new husband) navigated the caves like a pro and with a smile!
As we proceeded to scramble along some narrow passages in the cave, I watched the kids scrambling along in the dimly lit passages with no fear. I soon realized that the presence of kids shouldn't have had me concerned about the level of adventure, it was the presence of the parents, some of who were rather nervous about squeezing through the tight crevices.  Motivational cheers from their children seemed to outweigh fear though and amazingly to their credit, every parent, did every single cool challenge presented to us. Not one took the easy route out!  I was impressed!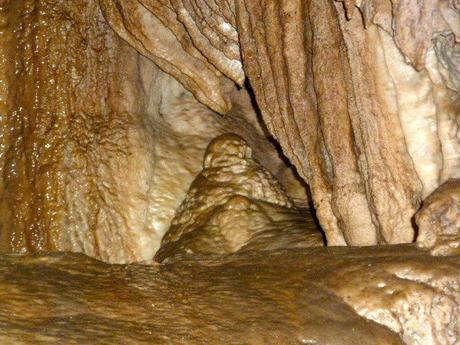 A crystal formation with a striking resemble to Buddha.
When we weren't exploring the cave, we were contemplating it. My imagination went wild as I saw crystal formations come alive.  "Look there's a polar bear!  There's a killer whale!" I pointed out to J.P., who clearly didn't share my artistic eye as he couldn't make out anything even remotely resembling what I was talking about.  But what we could all make out was this crystal formation (pictured above) which bore a striking resemble to Buddha.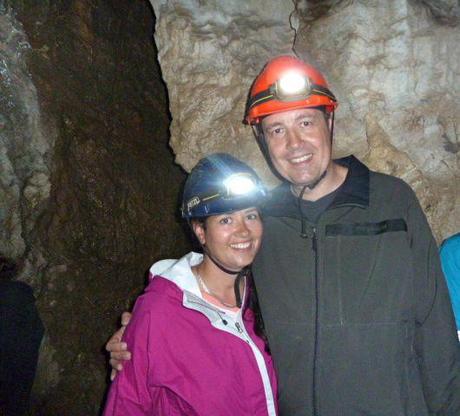 Still smiling despite almost getting stuck in a cave!
At one point during the tour as I was lying on my stomach, trying to worm my way over the large rock that had presented itself in a chamber with a low ceiling,  I began to wonder why I had wanted adventure on my honeymoon.  Shouldn't we be relaxing, hanging out on a sunny beach drinking margaritas?  Or having high tea in Victoria, B.C?  As I slowly inched myself over the rock, now covered in mud, and marveling at how my 6'5″ husband had no problem squeezing into the crevice, I realized that caving at Horne Lake was infinitely more intriguing to us than just lying on the beach – although I'll take that margarita!
Self guided tours are also available as are a range of other caving tours.  For more info visit the official Horne Lake website.  Note:  We paid for our tours in full.