These Vegan Roasted Cauliflower Tacos are filled with roasted cauliflower and onion, guacamole, and a simple cabbage slaw. This taco recipe is perfect for Taco Tuesday and makes for the best simple vegan dinner!
Meet my favorite easy vegan taco recipe! I'm a fiend for these cauliflower tacos: I make them at least once every couple weeks whenever I need a quick and easy dinner. I love my vegan taco meat recipe so much (it's so goodon my vegan nachos), but it takes a little longer to make than the simple roasted cauliflower filling needed for these tacos.
Loaded up on corn tortillas with a smear of homemade guacamole and a crunchy, tangy cabbage slaw, it seriously makes for the best easy vegan tacos.
These Cauliflower Tacos are made in just about 30 minutes, if you make the cabbage slaw & guacamole while the cauliflower is roasting. They're gluten-free, vegan, and could be grain-free with the right tortillas!
How to roast cauliflower
To make the roasted cauliflower, tear or chop the cauliflower into small pieces, add one sliced yellow onion, and then add your olive oil. Coat with all of the spices. For this recipe, we're using: cumin, smoked paprika, salt, oregano, garlic powder, and cayenne. This makes for such a flavorful combination.
Then, just roast at high heat for 20 to 25 minutes until the cauliflower is golden brown and the onions are cooked down and caramelized. Let cool slightly before building your tacos!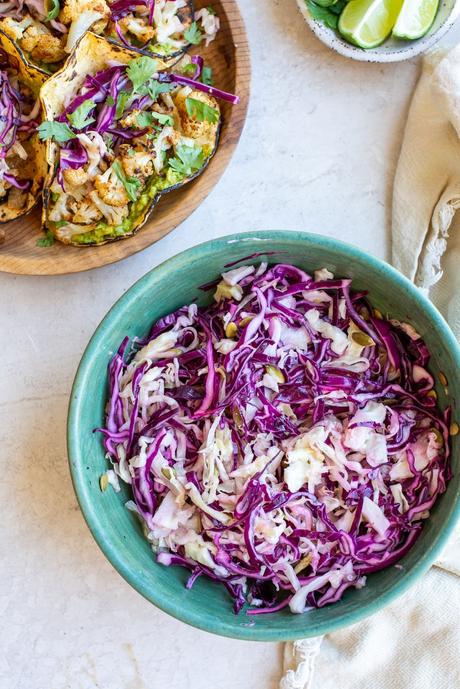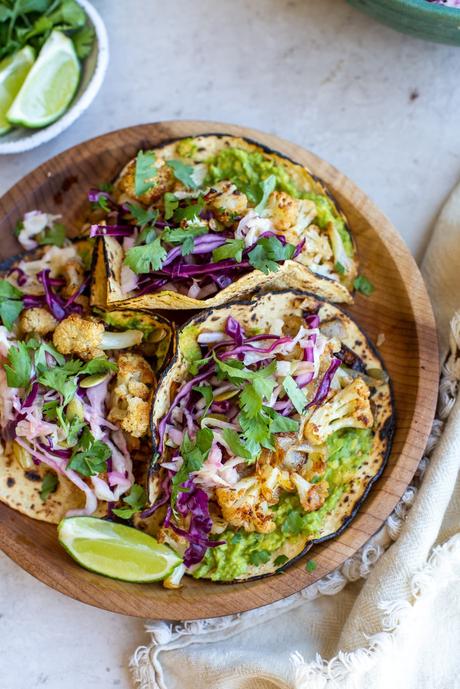 Making easy cabbage slaw for tacos
I love adding crispy, refreshing cabbage slaw to all of my tacos! It works so perfectly in this recipe in contrast to the savory cauliflower and the creamy avocado. So simple, too! I always eat any leftover slaw with a fork. It also keeps super well in the fridge for a few days. You'll need:
Cabbage: I like doing a combination of green and red when I have them both on hand for color, but either will work for this slaw!
Pepitas: roasted pepitas (pumpkin seeds) add an extra crunch that works so well in these tacos.
Lime Juice: brings the perfect amount of tanginess to this slaw.
Olive Oil & Salt: to add a little richness, and salt always!
To make it, simply slice your cabbage super thinly, dress it to taste with the lime juice, olive oil, and salt, and top with pepitas. Taste, adjust as needed, and enjoy bites of it while you wait for the cauliflower to finish roasting :)
For the guacamole, I like to keep things simple. I typically just mash one or two avocados (depending on size), with lime and salt to taste. You can also opt to serve avocado slices on the tacos instead, or make the guacamole however you like it!
Other Ideas for Cauliflower Tacos
I've made these with mushrooms added to the roasted vegetable filling as well, which is absolutely delicious!
Want to add protein? Add a can of drained and rinsed chickpeas to the cauliflower mixture and double the spices. It will increase your filling yield a lot and add delicious plant-based protein!
This avocado ranch dressing makes an amazing alternative to the guacamole in this recipe.
Serve with extra lime juice if you're a citrus fiend like me.
I often serve these to the omnivores in my life - no one ever misses the meat! But cheese and/or crema can be added if you'd rather these be vegetarian tacos.
To make ahead: if you want to make this ahead of time, you can prepare the cauliflower and cabbage slaw a day ahead of serving. Just store the cauliflower filling and the cabbage slaw in separate containers in the refrigerator. If you have any leftover cauliflower taco filling, it's super easy to make these again as leftovers the next day, too!
Growing up in San Diego with taco shops and stands abound on every corner, I have a deep appreciation for good tacos, and this will forever be one of my favorite taco recipes. I hope you adore this recipe as much as I do! If you do, let me know your feedback in the comments below. Enjoy!
Want more vegan Mexican food?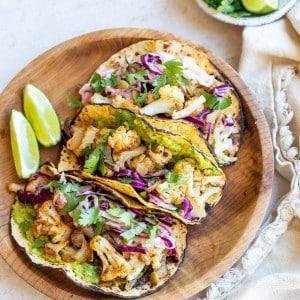 Cauliflower Tacos with Cabbage Slaw