A lovely simple modification to a traditional recipe this time.
Stuffed flatbreads/paranthas are one among popular North Indian preparations.These are often served with raita, chutney or a pickle. I modified the shape of regular parantha taking inspiration from traditional Cornish Pasty popular in UK. The pasty design is similar to the shape of Indian dessert "gujiya" and grated Cauliflower looks no different than couscous. So the name!!
Give your traditional looking flat bread/parantha a different look. And for pasty lovers try this spiced vegetarian stuffing for a change.
Ingredients.
For stuffing:
• 1 cup grated cauliflower( I used a chopper for grating. A quick tip for cleaning the florets, put the cauliflower florets in salted warm water for 8-10 minutes. I came across this tip on internet. Very useful for getting rid of any hidden bugs or insects).
• 1/4 tsp turmeric powder
• 1/2 tsp cumin powder
• 1/4 tsp amchur/dry mango powder
• 1/2 tsp red chili powder
• 1 tbsp chopped coriander leaves
• 1 green chili chopped(optional)
• Salt to taste
• 1 tbsp oil
For bread/parantha dough:
• 1.5 cup whole wheat flour
• 1 tbsp oil
• A pinch of salt
• Milk for kneading
Other ingredients:
• Loose whole wheat flour for rolling
• Oil for greasing the parantha
Method.
For the dough:
1. Mix all the ingredients together and knead into a stiff dough.
2. Cover the bowl with a cling film and keep it aside for 15 minutes.
In the meantime prepare the stuffing.
For stuffing:
1. Heat oil in a pan and add green chilies and all spices except salt.
2. Quickly add grated cauliflower otherwise the spices will burn.
3. Add salt and cook it on medium heat for 3-4 minutes stirring continuously.
4. Take off the heat and add chopped coriander leaves.
For preparing bread/parantha:
1. Take a portion of dough and make a round ball sufficient to make a chapatti, about the size of a golf ball.
2. Roll it into a circular chapatti using a rolling-pin; sprinkle some loose flour if the dough sticks to the work surface.
3. Fold the chapatti in half so that a center line is formed.
4. Place the stuffing on one side of the center line and fold the other side on top of the stuffing making a semicircular pouch.
5. Join the edges by pressing them slightly and crimp the edges as you would for pie pastry/gujiya.
6. Cook the parantha by greasing with oil on both the sides until its golden brown.
7. Cut into half and serve hot with yogurt/curd /raita of your choice with mint or garlic chutney or a pickle.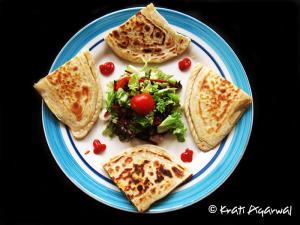 Filed under: Food Tagged: cauliflower, Cornish pasty, cous cous, cumin powder, flatbreads, grated cauliflower, North Indian recipe, parantha, stuffed flatbreads, whole wheat flour