Make these cauliflower cashew lunch bowls ahead of time and have work lunches ready for the week! Roasted cauliflower, toasted cashews, barley and chickpeas are all tossed in a delicious honey-ginger vinaigrette!
I love a hearty, healthy vegetarian lunch that can be enjoyed without reheating, like these Cold Sesame Noodle Meal Prep Bowls or Southwestern Sweet Potato and Lentil Jar Salads. Another wonderfully simple and satisfying recipe are these Cauliflower Cashew Lunch Bowls!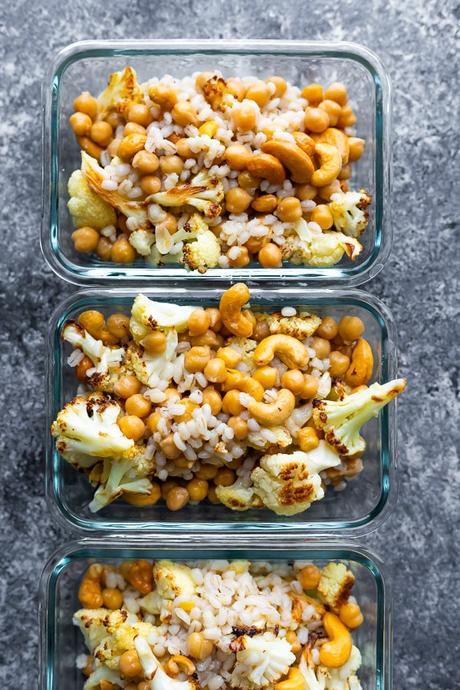 The roasted cauliflower, pearl barley, toasted cashews, and chickpeas all have a mild, somewhat nutty taste to them, creating a harmonious bowl of earthy, irresistible flavor. These bowls are surprisingly filling and with fuel you through the afternoon!
This recipe is enough to create 4 individual meal prepped bowls, perfect for enjoying as healthy lunches throughout the week.
Reasons you'll ♡ these cauliflower cashew bowls
easy to meal prep with simple, wholesome ingredients
vegetarian (easily made vegan!), but packed with protein
stores well for up to 4 days in the fridge, and only gets more flavorful the longer it sits
Don't forget to pin this recipe to save it for later!
Continue reading:Cauliflower Cashew Lunch Bowls