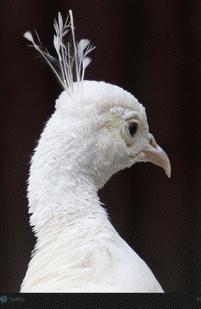 Knowing that Twitter's logo is a bird, it's a not a reach to learn that another very special member of the avian family has joined the ranks of the Twitterati. While @CathedralPhil is new to the flock, with only 93 followers as of this posting), he has been tweeting up a storm about the daily comings and goings of those who frequent the historic 1892 Gothic Revival cathedral, located in uptown Manhattan.
CP shares the majestic Morningside Heights landmark with two of his cohorts, namely his brothers Jim and Harry. However, differing markedly from traditional peacocks, instead of the multi-coloring normally associated with peacocks, CP is a beautiful leucristic (albino-like) white peafowl.

According to a NYC Urban Life report, CP "has a wonderful dry banter, and is always respectful and thoughtful with his tweets, as you might expect from a church-going bird." Here you can see that he also has a very good sense of humor.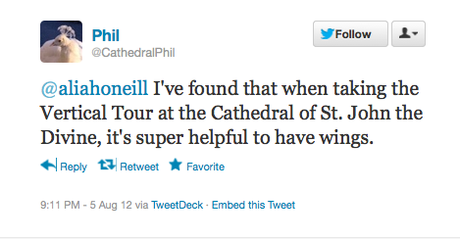 . . . and very appreciative when one his followers does something special in his honor, as he was here when @bigappleangel sketched a portrait of CP on July 29th…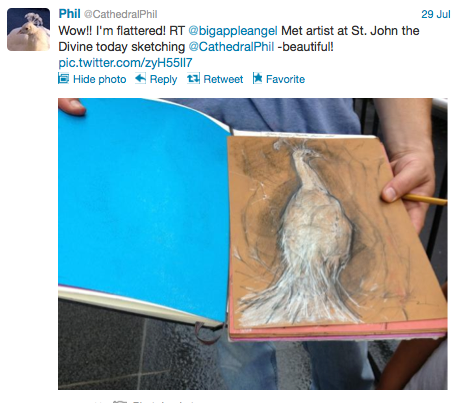 St. John the Divine, on Amsterdam Avenue and 112th Street in Manhattan, is a 13-acre campus, perhaps best known for its annual Blessing of the Animals. Beginning its peacock tradition in 1973, four peachicks were originally presented as a gift to the Very Rev. James Parks Morton after he was installed as dean of the cathedral. @CathedraPhil came almost a decade later.
Aside from CP's Twitter account, this famous peafowl also has one other distinguishing feature. James Barron at the New York Times says the "word from the cathedral was that they are prognosticators, that when they start showing their plumage, spring cannot be far behind."
Maybe a better source of forecasting than that other famous "Phil" who lives in that little Pennsylvanian town with the big name. "The consensus is that groundhogs like Punxsutawney Phil, whose big day is Groundhog Day, February 2nd may have nothing on the peacocks," verifies Barron.
Looks like @CathedralPhil might be the go-to weatherman for the future, even though that groundhog has a jump-start in racking up more followers on his Twitter account. Keep following those tweets, to find out whose the superior species in 2013.