Those 9 pints of Guinness felt like a great idea the previous afternoon/evening but I was feeling a certain way as my N.I Railways train pulled out of Botanic Station for N.I's Derry! No, I didn't need to take my passport with me because I wasn't going to pull a 'Nadine Coyle!' Derry, I'm not a Gemini! Derry successfully looked after me for the day, serving many surprises! Yes, indeed!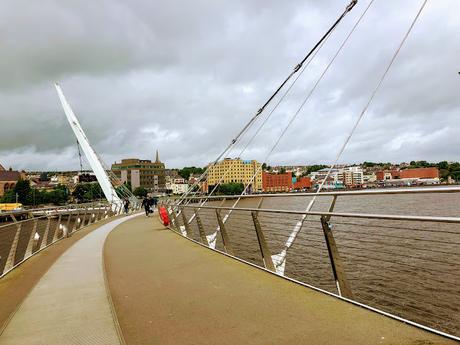 Wanting to make the most of my final day spent in Northern Ireland, I took the train from Botanic Station in Belfast to Derry's own terminus. N.I Railways came through for me once again with a standard return fare, no price hikes or nasty surprises ensured I departed stress free on the 07:15 service out of Belfast. The scenery that I passed on the train had me fed for the entirety of the journey, in my opinion I had the best seats on the train! Calling at 11 stations, the journey from Belfast to Derry took me around 2 hours with stops in places such as; Ballarena, Ballymoney, Cullybackey and Coleraine. After making good time, I arrived into Derry bang on 09:15 in the morning, from the station I was able to walk down to the Peace Bridge, that's where I saw Derry's own River Foyle flowing freely. Being the home of 'Free Derry Corner' and the 'Bloody Sunday Memorial', those key parts of the city would be visited for certain, I wanted to work my way around the city in an anti-clockwise fashion first. The home of Nadine Coyle? Yes! 
After crossing the Peace Bridge I found myself checking out Derry's 'Guildhall' with much curiosity because I had no idea what it would serve up? The current Guildhall was completed in 1890 with the clocktower built to resemble the Elizabeth Tower in London, England. An imposing statue of Queen Victoria greeted me as I entered the building, that royal figure had tracked me down for the second time during my time in Northern Ireland, I would let Vicky have that moment! I checked out the 'Main Hall' with much to see, the grand organ impressed me much. The intricate details served lovely stained glass, they had me staring so intently that I was in the way of someone's photo opportunity, I apologised for that! They were Canadian, how polite they were, I'm sure it was more like 'sorry, not sorry?' I joke! Kickstarting my morning in the right direction, both the Peace Bridge and Guildhall had me paying attention to Derry, Northern Ireland. 'Londonderry', who? I only knew Derry! Time to see those 'Derry Girls!' Go!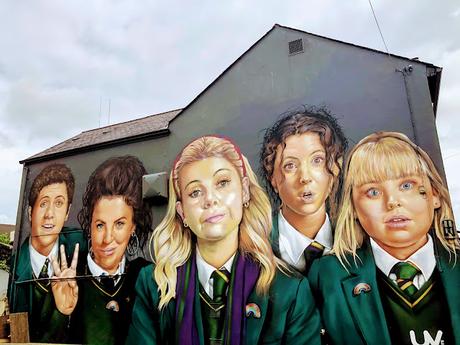 I felt duty bound to find a live link to 'Derry Girls' whilst I was of course in the City of Derry! I knew that a mural had been painted on the side of a house or pub but I didn't know where I would be able to find it? I went into the tourist information center to ask about the whereabouts of that 'lighter themed' mural because it wouldn't all be about the Troubles nor King Billy! I had my tourist guide-map in tow, with another question answered I was able to focus my attention towards a certain 'St. Columba'. Turning onto Orchard St, I was given the opportunity to see the colourfully animated Derry Girls mural. It was like a breath of fresh air because every other mural had featured a political statement that referenced Northern Ireland's tumultuous past. I for one love the Derry Girls series, I have only watched the first series, now I feel a sense of urgency to watch the second and third series because of that visit I took to Derry. I sent this photo to my Niece who is called Orla, so I wanted to show her that other people have her name. 
Derry had my heart, that Derry Girls mural served a sense of light just like the series continues to do so. Now, I must go back and watch the first series to see if I saw anything for real during that day spent in Derry! That wasn't a question! Pint-sized and ready for me to explore, I loved the small town vibe that N.I city served to me, Orchard Street gave me both views of the river and the City Walls without me needing to move one single muscle of mine! From there I walked up Ferryquay Street, making a short refreshment stop at Starbucks along the same street needed to be done, I hadn't had any breakfast yet! Thus far I was feeling impressed with the day that lay ahead of me in Derry, I felt that the compact walled city would allow me ample enough time to seek everything I had wanted to see! I still had to keep reminding myself that I was in the United Kingdom because I kept seeing known retailers and banks such as; Nationwide and Marks & Spencer! In hot pursuit of 'St. Columb's Cathedral', would it be open though? DY, I didn't know!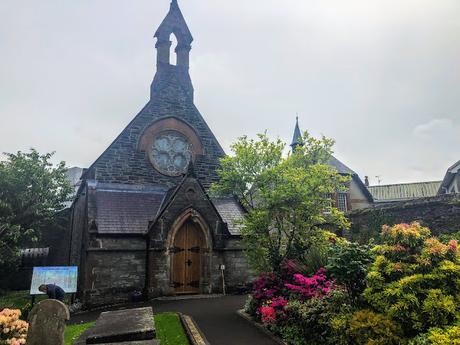 Carrying on like a champion I found 'St. Columb's Cathedral' along London Street without any issues, I tried my luck to have a look inside but luck wasn't on my side! Another Northern Irish place of worship had closed their doors to me! I had recently watched the first episode of a BBC Two documentary called 'Pilgrimage: The Road To The Scottish Isles', the show followed seven well-known television personalities take the route 'Saint Columba' took from Northern Ireland over to Scotland as he made the pilgrimage to spread the word of Christianity. The seven television personalities all followed different religions, with the odd one being atheist. Before my visit to Northern Ireland it was amazing to the show follow the same journey 'Saint. Columba' took from Ireland to Scotland. I wanted to get in on the action, I did learn about the beginnings of 'St. Columb's Cathedral', standing as the first Anglican Church to have been built in the British Isles. Built in 1633, this cathedral was built to commemorate 'St. Columba'. Yes, it was! 
Ascending higher, I made my way onto the 'Derry Walls' because I was in-search of another screenshot from the first series of Derry Girls. Yes, the curb-sides were painted in a red, white and blue pattern as to resemble the Union flag, I wasn't going to entertain those vibes as a British person, I saw that overt colourful display as a provocation and Derry had given such lovely vibes thus far. 'No Surrender?' 'Under Siege?' I later researched why such a space of land had been left empty outside of that row of West Bank Loyalist UK loving houses, so the space would be used to assemble and burn the July bonfires. Maybe the nearby Irish Republic border has those Loyalists in Derry feeling threatened? Yes, 100%! 'St. Augustine's', who? Known locally as 'The Wee Church On The Walls', I instantly remembered that little place of worship from the said documentary 'Pilgrimage'. I remembered a scene from that documentary series where two young people spoke about Derry's future. 'St. Augustine's' carries on with 'St. Columba's' work!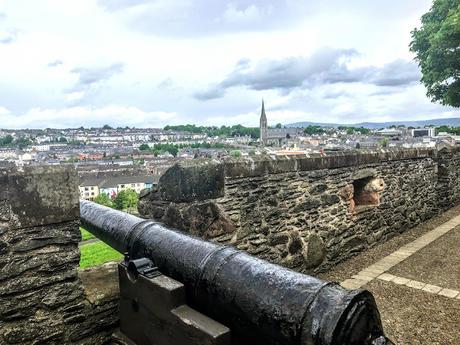 Before I made my way to 'Free Derry Corner', I spent some time walking along the westerly facing part of Derry's City Walls. I couldn't get over how well the walls looked, being 209 years old as the oldest remaining city wall on the island of Ireland. Constructed between 1613 to 1618 after being commanded by the English ruler, King James I as he bolstered his efforts to build the 'Plantation of Ulster'. The Derry City Walls had been originally constructed to protect the newly settled English and Scottish planters who had moved to Ireland's Ulster Plantation after its formation. As per usual I wasn't surprised that the walls had been built by the British because we love a good old fortification that has been armed with an army of armed cannons at the ready. Of course, those cannons in present day Derry wouldn't be armed because the Plantation of Ulster no longer kowtows to the rule of King James I. Truth be told, I didn't care about such history during my actual time along the walls, I was looking yonder! Oh, Derry kept me all clued up, D! 
Call me naive but before I watched Derry Girls, the only reference to the city was Girls Aloud's own Nadine Coyle. She will forever be a Derry icon, rising to fame after her calamitous attempt to cover her age on the Irish version of Popstars. Coyle later claims that RTÉ had exploited her, culminating with that epic 'Gemini' passport scrambling interview! Thankfully Derry's most famous modern export had the chance to audition for the UK version of 'Popstars: The Rivals' after she had reached the age of 18. Getting to the final, she won herself a place in 'Girls Aloud'. With a career spanning five studio albums, Coyle definitely carried the band with her killer vocals alongside with the late and missed, Sarah Harding. Coyle went on to represent Derry, Northern Ireland in the U.S.A along with her family where they ran their own chain of Irish themed restaurants before she returned to the United Kingdom. The 'Category Is...' most definitely is Derry because she represents on with Derry Girls and Nadine Coyle respectfully, D. 
Me A Gemini...? No, I'm A Scorpio! 
Desperately Seeking Adventure