Last time I checked in, we were waiting at my parents' house for Brandon, who was still in Tajikistan, to finally join us in America.  It's been awhile.
Brandon finally made it at 11:45 pm on May 3rd.  He successfully packed out the week before, where we barely squeaked by with our weight, much to my relief.  After the movers had boxed up all of our things and counted the boxes (258), Brandon did some multiplication (258 times 35 pounds per box = 9030 lbs) and freaked out.  But thankfully some of the boxes were pretty light and we came out okay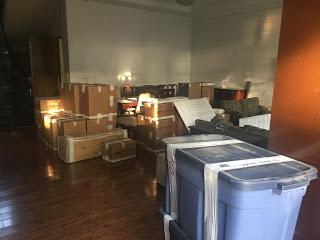 Our original plan, before mysterious medical circumstances intervened, was to visit Brandon's parents in Missouri before making our way to North Carolina.  We decided to stick with that plan, and so at 5 am on May 5th - after celebrating Eleanor's birthday the day before - we started driving to Missouri.  Seventeen hours later, we made it.  Even though driving that far in one day may be unpleasant, driving that far in two days with a stop halfway through is even worse.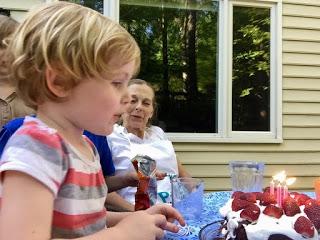 We had a fun time visiting, managing to get in a hot dog roast with cousins, a carriage drive with friends, a visit to Arkansas to see the Crystal Bridges art museum, an overnight trip to Kansas City to visit the temple and Liberty Jail, a ride in the tractor running the baling machine on the farm, and many, many trips down to Shoal Creek (where one of Joseph's flip flops decided to abandon him for somewhere better).  Much fun was had by all.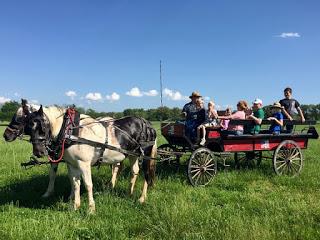 The next week we loaded everyone back up in the car and drove eighteen hours back, bypassing Raleigh and going straight to the North Carolina coast, to Topsail Island.  Since we are going to miss the annual family beach week, my sister and I hatched a plan to rent a house for a long weekend so that the kids could get together and have some beach time.  We finally made it to the house at 2 am (time zone switches are not your friend when you're driving east) and were very happy to wake up at the beach the next morning.
We stayed through the weekend and on Monday morning my dad and Brandon loaded up the four oldest to take them camping at Bear Island, a state park about an hour north of Topsail Island.  The entire party canoed out to the island and spent the night camping on the beach before paddling back the next morning.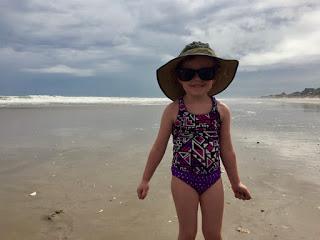 We also celebrated Sophia's tenth birthday.  Usually Kathleen is the one who gets her birthday at the beach, so Sophia was very happy to be the one to celebrate her birthday with family.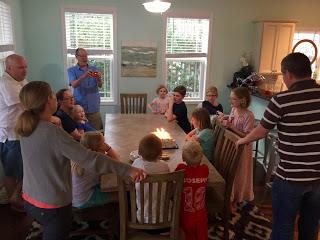 The next day Brandon flew out to Utah to celebrate his fortieth birthday with most of his brothers.  They had a great time fly fishing, watching movies, and hanging out without any spouses or children to ruin the fun.
The weekend after Memorial Day, almost all of my siblings came to Raleigh for a short family reunion.  My youngest brother and his wife are having their first baby (hooray!) in September, and my other brother is sailing his sailboat back from Hawaii (rough life), so they won't be at the beach week this summer either.  We had a fun time catching up, swimming at our childhood pool club, going out to eat, and learning a new game (Codenames) that I am really, really bad at. 
Monday morning Brandon and I abandoned the children to the tender mercies of my parents and left for a five day vacation to Charleston, South Carolina.  We had a fabulous time sleeping in, eating lots of seafood, admiring the beautiful houses and their gardens in the historic district, visiting Fort Sumter, attending an organ concert at the cathedral, taking a carriage tour, looking at art galleries, browsing antique shops, touring house museums, and visiting a plantation.  The Raleigh temple is closed for renovations (fist shake), so we ended our trip with a session at the Columbia temple.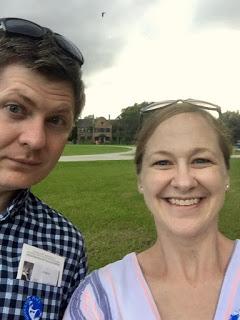 Saturday we packed up all the detritus of over two months' on-and-off residence at my parents' house, trying to find every little sock, toy, earring, and book that had worked its way into the every single corner of their dwelling.  The text messages from my mother with pictures of forgotten items started showing up about two hours after we left to drive up to DC on Monday morning.
We moved in to our temporary apartment that afternoon and I reacquainted myself with how excruciating grocery shopping is.  And then when I looked at the trunk full of food I had (it turns out that eight people eat a lot of food) and thought about hauling it all across the parking lot, up the elevator, down the hall, and into my apartment, I remembered why I really hate living in apartments.  There are some really great things about living in a place where you can pay someone to magically make food show up in your refrigerator and your car is parked right outside your front door.
This week Brandon has been doing some consultations and chasing around all of the tasks that seem simple until you start doing them.  We neglected to renew our medical clearances in the rush of leaving post early, and are now paying for it with daily calls to the MED offices to beg them to get ours done quickly.  Brandon also missed the email back in April where Tashkent sent him paperwork to get visas and accreditation done early, and so we're sweating that (30 day turnaround) too.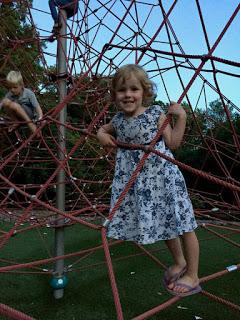 In between paperwork battles, phone calls, meetings, and consultations, we have been getting together with friends who are also in the DC area.  The children and I met a friend from college at the National Aquarium, we met friends from Cairo for a pleasant evening at the park, we met up with other LDS families who are also going to Tashkent this summer, and we went out to dinner with my cousin and his wife.  Brandon is about ready to declare himself a hermit.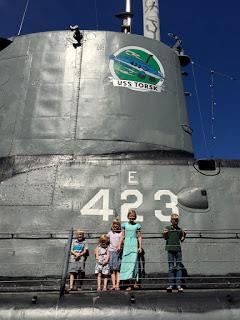 In three weeks we will be settling in to our new life in Tashkent, ready to finally stop after three and a half months of nomadic life.  We can unpack our suitcases and leave them unpacked, set up a routine and stick to it, hang some pictures, and go back to normal life. 
But not quite yet.