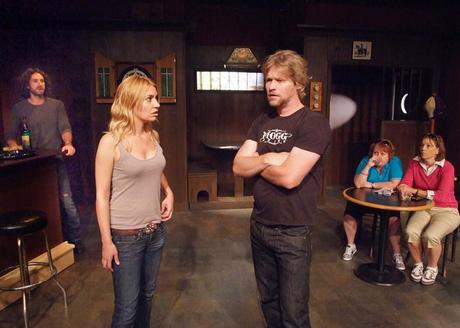 Truebies the world over know Todd Lowe best for his role as Terry Bellefleur on HBO's True Blood. But those of you who are in or will be in the LA area through the end of October can see Todd in a different role–live!
The Odyssey Theatre Ensemble performs Justin Tanner's comedy Day Drinkers, which sees Lowe take on the role of Daniel, a man who runs a Downtown LA dive bar with his wife Jenny. The pair are in the midst of marital crisis largely due to Jenny's coldness and the fact that she has a thing for Daniel's brother Caleb who has allegedly fled to Canada only to pop up later.
Two other couples; one a lesbian couple that dreads going to a family reunion due to homophobia and other issues and the other an engaged couple who find their relationship challenged by one's adult son, tell three very different stories of love.
Arts Beat LA describes Day Drinkers in the review as
"…A beautiful and relatable play about the rocky roads of relationships. Small victories and important reconciliations plus almost non-stop laughter add up to a feel-good experience."
The play has been extended through the end of October and performances are Wednesday through Saturday at 8PM and Sundays at 2PM at the Odyssey Theatre in LA, 2055 S. Sepulveda Blvd.
The Odyssey Theatre Ensemble is offering $15 tickets to the show for True Blood Fans. All you have to do is call the Box Office at (310) 477-2055 and give them the code: TRUEBLOOD for the discount.
So don't miss seeing Todd Lowe in Day Drinkers because we all know he'll be nothing short of fantastic!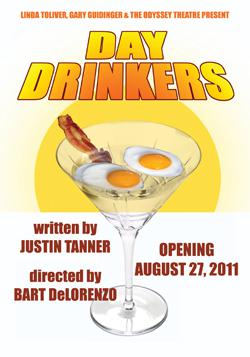 To learn more about the play, read the full Arts Beat LA review here or visit the Odyssey Theatre Ensemble's website.
True Blood Fan Source would like to thank Jeresha Liu of the Odyssey Theatre Ensemble for allowing us to post about this play and for generously offering a discount for our readers.
Sources: Arts Beat LA.com- "Lushes in Love–Day Drinkers at the Odyssey Theatre"
Odyssey Theatre.com- "Day Drinkers."
Image Credits: Odyssey Theatre Ensemble