Today Spain and the world is mourning the death of Catalan painter and sculptor Antoni Tapies, one of the world's top contemporary art figures. He was 88 years of age and had been ill for quite some time.
Antoni Tapies was born in Barcelona in 1923 and was one of Spain's main exponents of abstract and avant-garde art in the second half of the 20th century.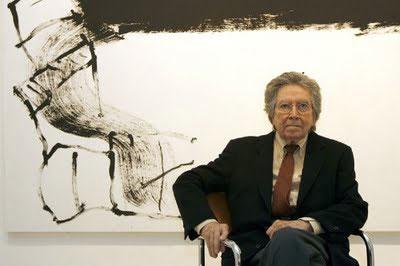 His works of art have been displayed in many major museums around the world, including New York's Museum of Modern Art, the Institute of Contemporary Art in London and the Neue Nationalgalerie in Berlin, Germany.
The president of Catalonia Artur Mas said:
"He was the most radically Catalan artist in his thinking, his expression and references and at the same time the most universal in his language and international projection".
Some of Tapies' most notable works include "Gray Relief on Black" (1959) and "White and Orange" (1967), "Pants and Woven Wire (1973) and his famous 18-meter long sculpture "Sock" which caused quite a stir in 1992.
As a tribute to the great artist Antoni Tapies, the Tapies Foundation in Barcelona is opening its doors for free today, Tuesday and tomorrow, Wednesday. Many have already signed the book of condolences – among them being ex president of Catalonia Pascual Maragall.