It's that time of the year again and living in Catalonia can be quite fun as they have some strange and funny traditions for this time of year. Catalan Christmas traditions have changed over the years and have become increasing popular. I've found a good post that deals with some of the most common traditions found in Catalonia and the rest of the world. Take a look.
Shortly before Christmas, many Catalans (residents of Catalonia, Spain) put up little figurines to arrange the Nativity Scene in front of their houses. This is a common tradition both in the United States of America and in Europe. However, somewhere in a corner of this traditional Christmas installation, the Spaniards put a figurine of a little man who is busy defecating. The roots of this tradition are hard to explain, but the Catalans say that there is something reassuring about it.

It used to be a figurine of a common peasant. Nowadays, souvenir shops offer a variety of figurines of defecating starts of Hollywood, sports and politics. The figurines are available in porcelain, paper and even chocolate.

Such figurines are known as caganer (the sh*tter). They don't give it to friends as presents. If a guest wants to be lucky next year, he or she will have to find the pooping man, which the house owners had hidden.

Figurines of US President Barack Obama with his brave slogan "Yes, we can" has been a hit of sales during the recent years. Defecating European politicians are also available.

In Italy, children receive their Christmas presents on January 6th. This is the day when La Befana, the good witch, flies on her broom from one home to another delivering presents to children. For mischievous children, the witch brings cabbage leaves. Legend has it that Befana set off on her journey to the crib of Jesus Christ too late and lost the guiding star out of sight. She has been trying to find baby Jesus since that time so she leaves presents in every home in a hope to find him there.

The festive season starts with the visit of Saint Nicholas. He does not show up in person, as it happens in Germany and Austria. He shows his presents on the bedroom door. The Christmas tree is not a centerpiece of festivities – the crib is (presepio). The Italians hold something like a family lottery on Christmas Eve, when each family member randomly picks a piece of paper with the number of their present written on it. The Italians celebrate the birth of Jesus Christ, or Bambino Gesu, on December 25.

In Poland, the Christmas night is a night of miracles. Legend has it that on Christmas Eve, even animals can speak like humans. There are special Christmas traditions in Poland. The Poles put an extra plate on their festive tables for unexpected guests. They serve their table with not less than twelve dishes. They also put a wisp of hay underneath the table. The hay symbolizes the Bethlehem cave in which Jesus Christ was born. The Poles fast the day before Christmas dinner. The dinner starts with the reading of the story of the birth of Jesus Christ.

The incredibly superstitious Icelanders begin their Christmas preparations on December 12. On this day, 13 troll-like creatures come out of their cage in which they live during the whole year with their troll mother and a giant cat.

Every night, one of the trolls roams about the towns and villages spying on people. The trolls leave presents to well-behaved children. They put the presents in their shoes. Each troll has its own name and temper. Some of them licks plates and saucepans clean, another one slams the doors, another one likes to steal smoked lamb from the chimney.

If children misbehaved much during the year, they can be visited by the mother of those trolls – Gryla, or what is even worse – her Christmas cat. Gryla has three eyes, she is all covered with warts and has ugly teeth.

There is a mixture of pagan and Christmas traditions in Mexico. Chaos reigns in the streets of Mexican cities during Christmas days. Children entertain themselves with piñata – a toy stuffed with fruits and candy. On December 24, many Mexicans gather near churches, where they make fires and arrange fireworks.Original post here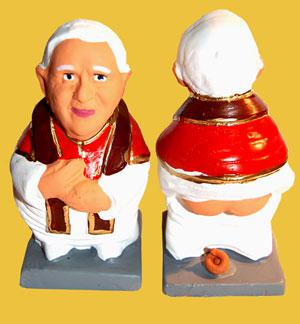 Shops, especially Catalan bakeries and cake shops are full of Catalan Christmas traditions and the most famous are the log and the Caganer. At first the Caganer can seem quite horrid and even gross but I think it's something you get used to!