Since my post on Parrot Bangkok, it seems to have garnered some interest on Thai Designers and some of you have asked for more affordable or casual looks. Some of you with a keen eye would be aware of this series - Made in Thailand where I introduced some of the Thai designer products (may not be clothes I have written on).
This series stemmed from my love for anything Thai. Don't be shocked but I do listen to Thai shows and watch Thai movies. My Thai kinda of sux so I am still relying on translations and I can't read the Thai words at all. Nit Noy Puut Thai.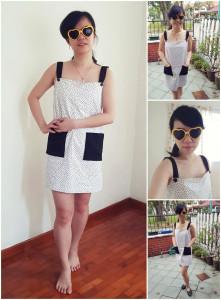 If you like something more casual, let me introduce you a brand I recently came across (and has fallen in love with) - Pim Predee. Generally, this brand is very my style. Cos, there is something quirky about it. My "apron dress" came from the Spring Series. I call it the apron dress cos the cutting and pockets really remind me of an apron haha.
If you know me personally, I have a lot of dresses of this cutting. What I love about this piece is that, it is still rather down-to-earth because of the color combination but still screams "notice me". (Note: They also have a more colourful and cheerful colours mix.) This is making me wanna get the whole series. OMFG!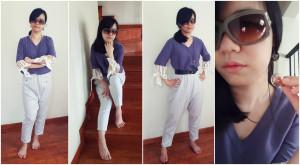 Because I was kinda of lazy, I worked out a set completely based on Pim Predee's pieces. The Violet Bow Sleeve Top is a little too big for me. (I think I slimmed down already, Whee) But, it still looks good as over-sized fashion. And you know what, I love the sheer details on the sleeves and the V-neck details. The top is really comfy and fits me to a Tee.
The Drape Pants honestly is a little more confusing. By right, the flap should be worn in front. But, I like it better when it is worn the other way round. And because I have a thicker bottom, it does make me look a little tubby haha. My Mum suggested putting on a belt.
Maybe it is just me who doesn't know how to pull off the drape pants. But these pants are pretty in, in the land of Thai. (Maybe everyone should have a piece!) On a separate note, the Drape pants were made of a tweed-like material so it may be a bit coarse. Do check out Pim Predee for other styles, I am sure what you will love what they have to offer. Meanwhile, I will just continue being a Pim Predee model <3