Every now and then Pam gets an idea in her head about some flower or plant, and it's my job to go find it, plant it and keep it happy – or, failing that, to talk her out of it (usually with the winning argument that we don't have enough space for xyz beautiful but too-large flowering shrub).
And so it came to pass that we planted some nasturtiums a few weeks ago and, as nasturtiums do without encouragement, they are already thriving. But there's a bit of a 'Mother's Day' theme to this story that you'll find out about by the end of this post, so I guess it's the right time to tell you the story. It goes like this...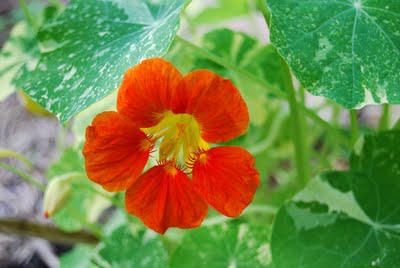 Here's the first of the nasturtium flowers, and they're vividly nice things, although appreciating them sometimes means getting down on hands and knees and parting the foliage to find the blooms.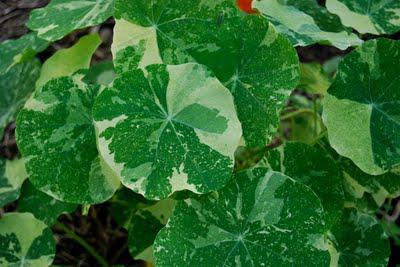 Speaking of foliage, this nasturtium does have a lovely 'splashed paint' look. These are attractive plants, but they do have a major drawback, notably being an invasive weed, but I just couldn't say 'no' to Pam's request for some nasturtiums. She loves them, and very recently nasturtiums came into our lives for a lovely celebration involving my dear old Mum.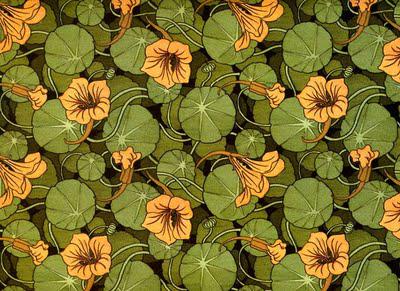 This is what started Pam's nasturtium thing. This is a beautiful old, original, Art Nouveau wrapping paper which Pam has in a book that simply consists of bound-in sheets of many different, original Art Nouveau papers. It's a gorgeous book. Pam asked me to scan the paper, as she was designing a special birthday card to commemorate the fact that as of March 8, 2011, it was 100 years since my mother was born. Mum has been in Heaven for over 30 years (Dad joined her there in 1986), but on the night of Mum's 100th 'birthday' Pam and I got together with my brother and his wife for a special dinner to commemorate the occasion. Champagne, great food and no washing up (we went out to a flash restaurant) did Mum and the occasion proud.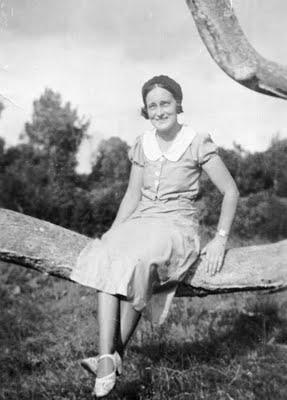 Here's the birthday girl herself in a photo taken probably around 1930, sitting on an old, fallen gum tree branch somewhere around Glen Innes in the Northern NSW tablelands where she grew up, or perhaps down on the coast at Grafton, where she met and married my Dad, Neil. Mum's christian name was an unusual one – Zella – and Mum told me Zella was the name of a Gypsy girl who once passed through the town where Mum was born, Tenterfield. Grandma loved the name and so her first child, a beautiful girl, was called Zella.
To mark the 100th anniversary, Pam designed a special card with this photo of Zella on the front, and on the inside are some more photos, backed with the nasturtium paper. My sisters live too far away to be able join us that evening, so we thought making the card and sending it to them was a way of including them in this little celebratory moment of family history.
And so, when Pam, with her big, beautiful eyes looked at me and said the equivalent of "darling, I want to plant a rampant flowering weed", I had no option but to say "I suppose you want the type with the variegated foliage?" then head off to the garden centre to find one. It does look nice in the garden now, but I have fears that when we return from our American holiday later this year the nasturtiums might just have taken over half the backyard.But the combined, irresistible forces of mother and wife easily win out over the practical boy gardener, and so we're casting nasturtiums here at Amateur Land, with pleasure.