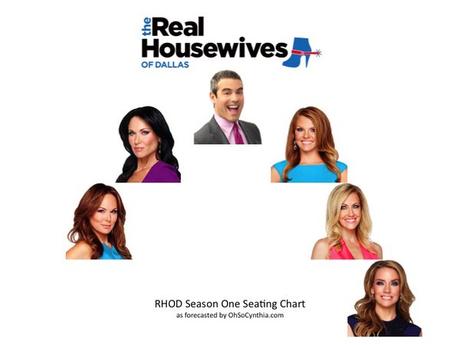 Episode 6 of the Real Housewives of Dallas aired last night giving us a glimpse at Aaron Hendra's concert at the House of Blues, Brandi Redmond's family turmoil over her brother's attempted suicide and a goth State Fair-themed Frito Chili Pie party from Heidi 'Effin Dillon. Even though we still have 4 more episodes to go, the ladies are already on their way to NYC to film the Season One Reunion with Bravo boss Andy Cohen. Cary and Mark Deuber were the first to hit NYC. The couple flew out Sunday to enjoy the Big Apple for a few days before the reunion films on Wednesday. The couple loaded up on calories at hot spots Eleven Madison Park and Le Bernardin - but have no fear - our darling yogi "crushed it" training with Hilary Writes at Barry's Boot Camp on Monday. I have no doubt that she will look lean and mean for the taping. The rest of the cast flew out today and taping will be a 12-hour marathon session taking place on Wednesday. May the force be with them. I've seen the remaining episodes and there is a LOT to be talked about at the reunion. I am fully expecting my phone to blow up tomorrow with texts from the girls about how the taping is going, so stay tuned...
Wish us luck and send up some prayers as we head to NY for the reunion! @leeannelocken @aaronhendra #RHOD #realhousewivesofdallas #firstclass #travel #NYC A photo posted by Tiffany Hendra (@tiffanyhendra) on May 24, 2016 at 7:39am PDT
Tiffany Hendra took to the Good Morning Texas airwaves on Monday and told host Jane McGarry (go to the 4:00 mark) that "it is looking positive -very, very positive." for a possible Season Two. "Bravo seems to be happy," Tiffany smiles, crossing her fingers. While Bravo hasn't officially confirmed the return of the series, I can confirm that casting has already begun to put out feelers for new cast members. Word on the street is that they are not looking to replace any of the original cast, just enhance what they already have. And by "enhance" I mean they are looking for two things: diversity and someone who has money/a luxury lifestyle/opulence. Know anyone who fits the bill? Holler at me via Facebook or Twitter. I'd love to hear your suggestions! In the meantime, you can continue to keep up with the ladies of the Real Housewives of Dallas every Monday at 9:00 CST.