Anthony's Restaurant Rating:
84/100 X
Welcoming:9/10 Menu Choices: 9/10 Food Presentation: 8/10
Food Temperature: 8/10 Food Taste: 14/20 Service: 8/10
Ambiance/Music: 9/10 Architecture/Interior: 10/10 Air Quality: 9/10
Total: 84/100
Casper & Gambini's opened its latest branch facing the American University Hospital, in the heart of Beirut busiest districts. This renowned concept specializes in serving gourmet meals and specialty espresso-based drinks, with an emphasis on health and fresh ingredients. The all-day menu comprises hot cuisine, sandwiches, salads, weekly features, homemade desserts, coffee and juices, served in an elegant and contemporary atmosphere.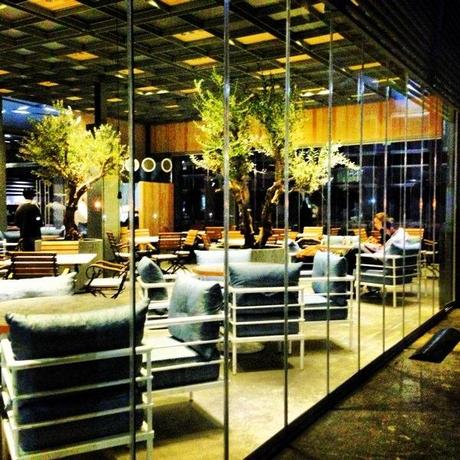 "A superb first impression. The new AUBMC, C&G branch is a must visit. I loved it."
It's impressive how a positive change can happen so quickly. After visiting C&G Verdun last week and writing about my negative experience, I wanted to give of my favorite concept another chance. I really enjoyed today's dinner and invite you to try it for yourself.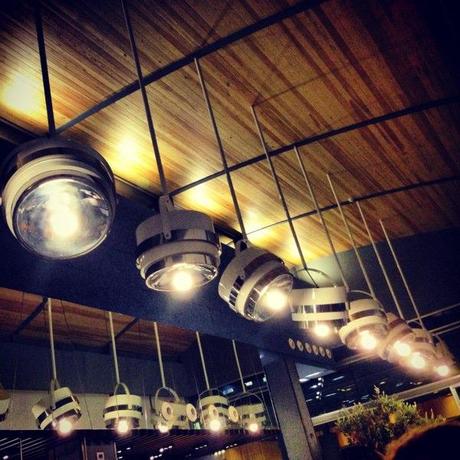 The new individual stand-alone Casper & Gambini's lovely decoration:
A green square in the heart of Beirut's concrete buildings

Three different sections (the entrance large hall with its high ceiling, the internal terrace with its olive trees and the outside balcony)

A long bar at the entrance with its ready made sandwiches fridge and cakes

The nine huge and impressive pending lights remind you of a surgery room to add a touch to the place located in the heart of a medical district

The signature long chesterfield sofa as seen in the ABC Dbayeh branch

Grey individual sofas and wooden square tables

A different feel on the terrace with a more summer-style seating

A lovely high ceiling with its design wooden strips

Grey concrete floor another Casper&Casper signature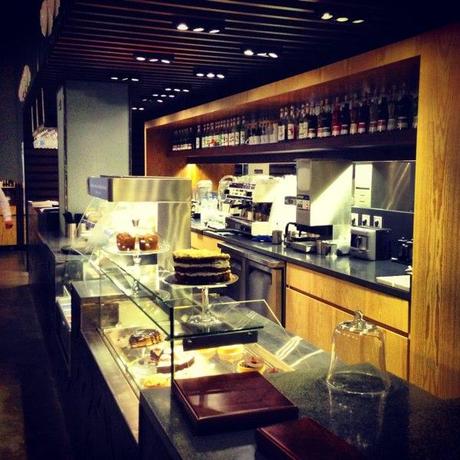 The things I loved: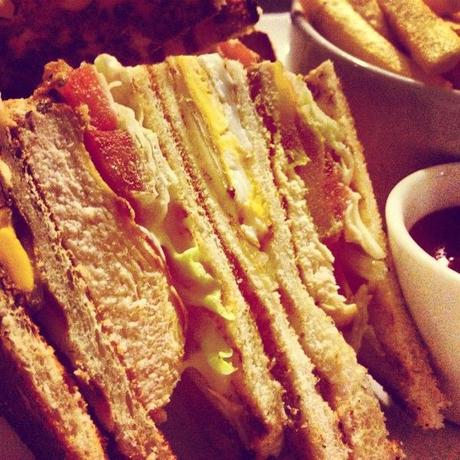 We ordered:
Nachos Special (cheddar, mozzarella, guacamole, salsa, sour cream)

Chicken Tenders (Chicken tenders, honey mustard sauce)

Chèvre Salad (chèvre croutons, rocca, mesclun, mint, cherry tomato, cucumber, hazelnuts, balsamic dressing, raspberry dressing)

Club Sandwich (chicken, fried eggs, bacon, mozzarella, lettuce, tomato, pickles, mayonnaise, side French fries)

Classic

Italia (mozzarella, ham, tomato sauce, mushrooms, olives, basil)

Chocolate Fondant (molten chocolate, homemade vanilla bean ice cream)

Pain Perdu (creme Anglaise, brioche sautee, caramel sauce, homemade vanilla ice cream)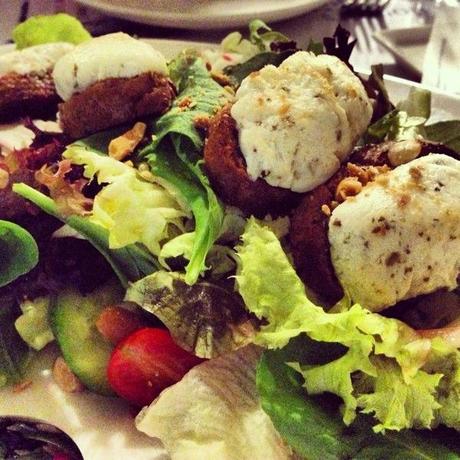 The food experience:

Nachos are chewy and oily. They should be crispier and contain less oil. Maybe the cheddar used is too fatty. As for the dip containers (guacamole and sour cream) they are so small that the nacho piece doesn't fit inside to be dipped. It should be bigger like the ones used for the tomato sauce.

The goat salad is just perfect. Mouthwatering colors, Fresh, small pieces that are easy to eat, lovely little pine nuts bits that add a magical spell to the mix, warm cheese bites on round toasted brown bred, all together marinated in their unique raspberry-balsamic sauce.

Yummy. The club sandwich is very good. Thin layers of bread – that is my opinion the most important thing – non oily fried eggs, a non chewy piece of chicken and to add a sweetness, a couple of pickles that are gently swallowed. The fries next to the sandwiches are very tasty. This plate I liked.

Chicken strips are good. Very good. It's the fine dining version of the famous Roadster's invention, covered with grated cheese.

In my last review I was clear that the wheat bread pizza at Casper is a mess. That was before tasting the normal bread pizza. My choice today was for the most renowned one, the Classic Italia: A very tasty pizza, with a thin and soft dough, filled with fresh ingredients and the most important things that this Pizza can be totally devoured with its borders unlike its little sister. Bravo!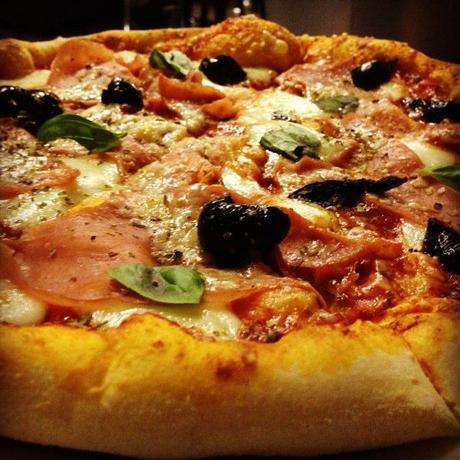 Desserts:

The chocolate fondant is unique. I would even say exceptional. A thin layer of chocolate cake filled with a dark chocolate sauce with an adequate consistency that doesn't give you heart burns. I really loved it and can say that is is the best plate I had 

tonight

The Pain Perdu – as experienced before in the Verdun  – is missing something. Has the recipe been changed? Or has the chef that prepares it left the company? Not as impressive as it used to be.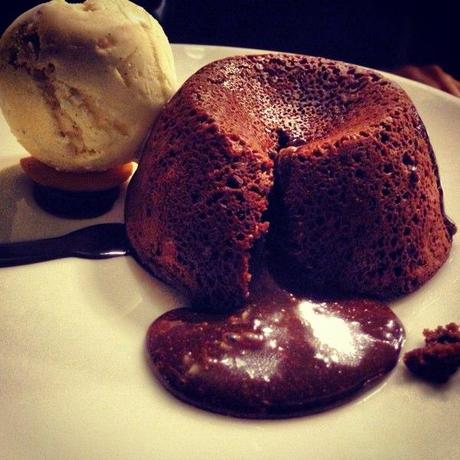 The minuses:

Aren't we done with the "Don't take pictures" issue yet? Come on! For the record: the pictures taken today of this unique place will make you want to visit it the place the soonest.. If only the management thinks outside the box.

Nacho's need a fix.

There is something not right about the Pain Perdu. That is not the one I'm used to having at Casper.
I was surprised to witness such a difference in one week. This new C&G I experienced today is the one I know and was expecting… It is the one I missed for sometime now. Great work guys, just make sure to keep this excellence in all your branches. 
Pass by for the complete experience that activates all your senses: a beautiful architecture, pleasant music, tasty food and professional staff.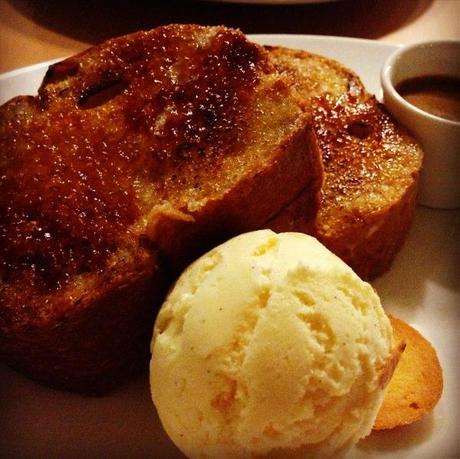 Located in the heart of Ras Beirut, the new 500 sqm stand-alone Casper & Gambini's in Hamra opened it's doors on February 19, 2013. With a capacity of 170 indoor and outdoor seating, Casper & Gambini's team will be glad to serve you in an elegant & contemporary atmosphere. Students now can enjoy a healthy and delicious meal while working on our communal tables or they can chill out with friends over Award winning coffee. An extensive breakfast menu will be served in the all-day restaurant-café. For those in a a hurry, just pop-up at our take-away fridge where fresh homemade sandwiches, salads, desserts are placed for your convenience. An outdoor terrace is designed for chilling time after work. Casper & Gambini's at Med Cafe AUBMC will serve you all day for a dine-in experience from breakfast to dinner and will bring the magic of food to your office and home with our delivery and catering services.
























Pages  [
1
]  [ 2 ]  [ 3 ]