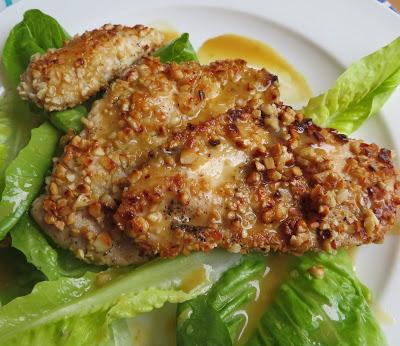 I have this small book by Donna Hay. It is entitled Small Essentials, Chicken.  Yep, it is filled with chicken recipes. 60 of them to be exact.  I love Donna Hay cookbooks and recipes.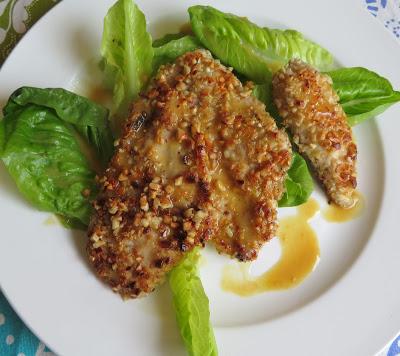 Not that I have many of them. I don't.  She is like the Martha Stewart of Australia, except a lot younger.  She has an impeccable eye for flavours, and presentations, decorating, etc.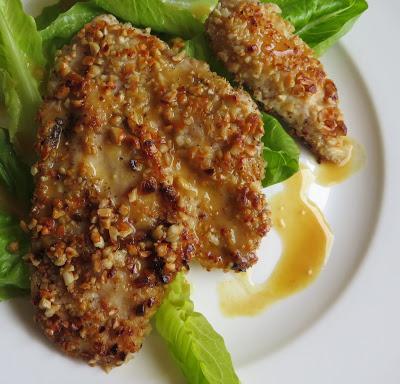 We are having a sunny hot day here in Chester as I write this. I didn't really feel like heating up the kitchen overly much, but I had taken out some chicken to cook.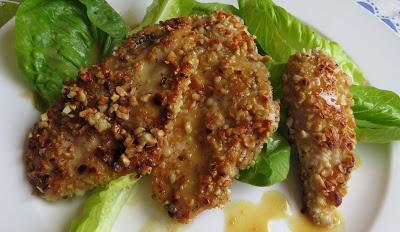 I wanted something light and quick and fresh.  I have a lot of work on today for that other site I write for, but still wanted something new for here.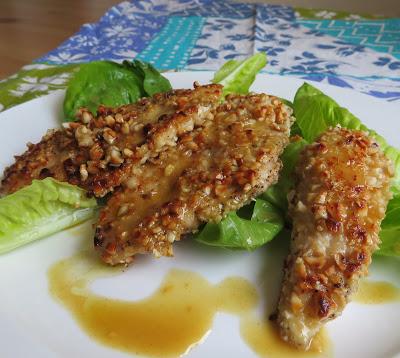 This was a recipe I had flagged for a long time now.  Tender chicken breast slices, coated with cashew nuts and fried in olive oil until golden brown on both sides  . . .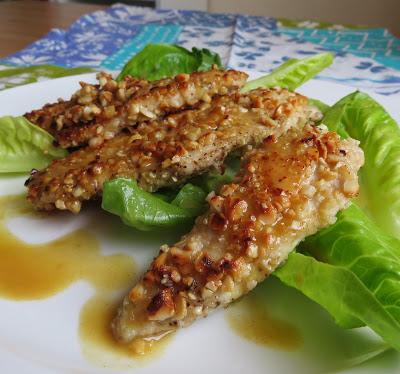 Served hot atop crisp baby gem leaves.  Baby Gem are like tiny romaine lettuces, but a bit more bitter in flavor. You could use baby romaine or romaine hearts
Her dressing was a Honey Mustard Dressing, but I can't tolerate much honey these days so I created a Maple Mustard Dressing instead.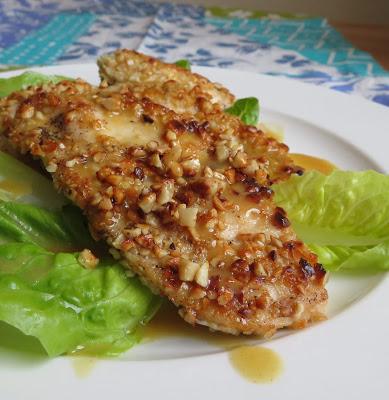 It turned out beautiful, with crisp coated, yet tender moist pieces of chicken breast meat  . . .  oh, I
love
adore cashew nuts . . .  don't you?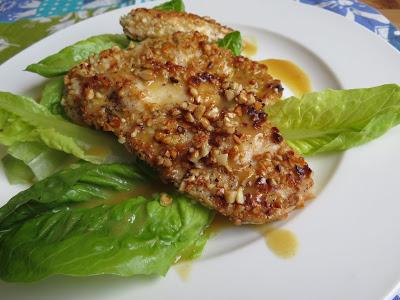 I am also very fond of baby gem lettuce. I love its slight bitter flavour, which went very well with the chicken and the richness of that coating  . . .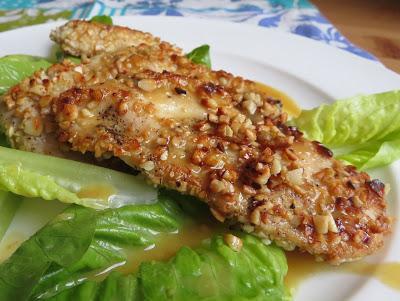 Maple & Mustard?  Come on now!  A Marriage made in heaven!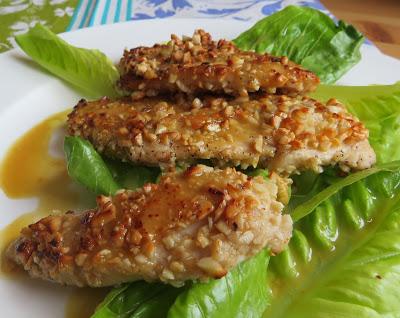 This couldn't get any better or simpler if you tried. Its fabulously flippin' delicious!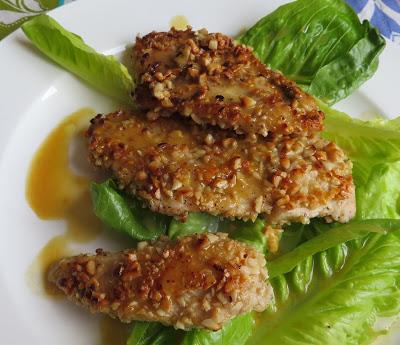 This is going into my tried and true's folder.  I was a bit worried the nuts wouldn't stick to the chicken because there is no egg or liquid to grab them, but it was all in vain . . .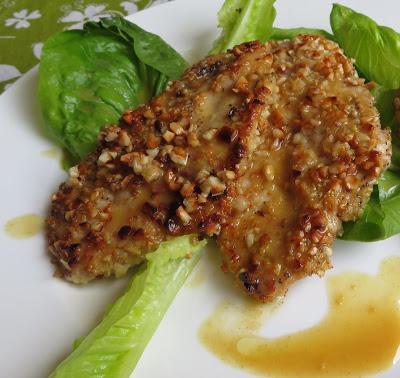 The coating adhered perfectly.  This was just the perfect salad all round. If you love cashews and you love chicken, and if you are fond of  the flavours of maple and mustard together, then prepare yourself to absolutely adore this simple salad!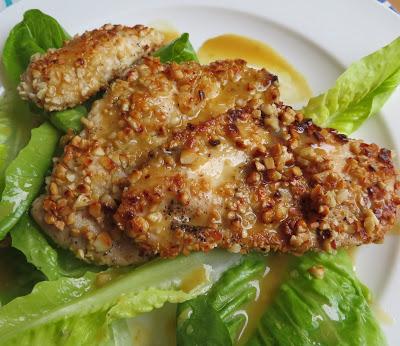 Cashew Chicken Salad
Yield:
4
Author:
Marie Rayner
This is a delicious salad. Its very simple to make and boasts a lush fat-free Maple & Mustard Vinaigrette!
Ingredients:
For the chicken:
2 X 200g (7 ounce) chicken breast fillets, sliced in half lengthwise
112g raw cashew nuts
salt and black pepper to taste
2 TBS olive oil
For the Dressing:
1 TBS Dijon mustard
1 TBS white wine vinegar
2 TBS pure Maple Syrup
You will also need:
Instructions:
Wash your lettuces, dry and then separate into leaves. Set aside.
Put the ingredients for the dressing into a small jar, cover tightly and give the jar a good shake to combine them all. Set aside.
Using a nut chopper or food processor, chop the cashew nuts.  Season your chicken slices with salt and black pepper and then coat in the chopped cashew nuts.
Heat the olive oil in a large skillet.  Add the cashew coated chicken and cook the chicken for 2 to 3 minutes per side until golden brown and cooked through.  It should not be pink inside and the juices should not run clear.
Divide the salad leaves between four plates. Top each with several slices of chicken.  Give the dressing another shake.  Drizzle the salad with some of the dressing and serve immediately.
Did you make this recipe?
Tag @marierayner5530 on instagram and hashtag it #EnglishKitchenCreated using
The Recipes Generator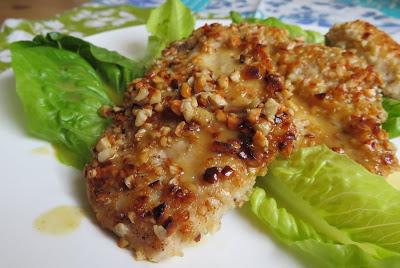 Have any of you tried the blogger interface?  I started off trying it today but had to abandon it. It just wasn't working and I didn't have time to mess around with it!  I uploaded all of my photos and they promptly disappeared . . .  twice!  So I switched it back to the old one. What has been your experience? 

Follow my blog with Bloglovin