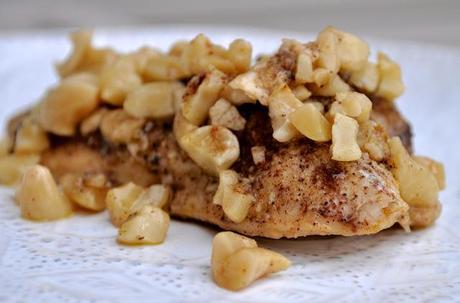 Clean Eating.It's all the rage.
I'm personally only temporarily eating clean for a cleanse. We'll call it a trial period. If I love it I may stick around.
Well, in my adventures through clean eating I have made some truly delicious meals.This chicken is one of them.It's probably the most flavorful chicken I have made in quite some time.
I added salt directly into the spices, but you hardcore clean eaters can just add it after you bake it - to taste.
Enjoy!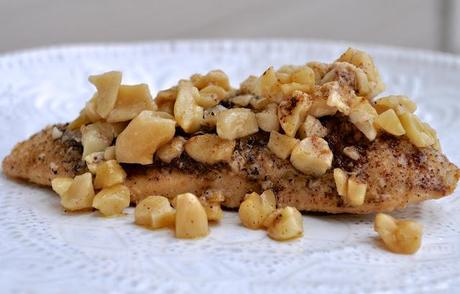 Cashew Chicken
Ingredients
2 large boneless chicken breasts, cut in half
1 teaspoon cinnamon
1 teaspoon cumin
1/2 teaspoon ginger
2 teaspoons garlic powder
1/2 teaspoon pepper
3 tablespoons lemon juice
1-2 tablespoons olive oil
1/2 cup raw cashews, chopped
Salt, to taste or add 1/2 teaspoon into the spice mixture
Instructions
1// Preheat your oven to 360 degrees.
2// Place all spices in a bowl and mix.
3// Spread olive oil in the bottom of a glass baking dish so there is a thin coating. Place chicken breasts in the bottom of the dish.
4// Sprinkle half of the lemon juice on the breasts and then half of the spice mixture.
5//Flip the breasts and repeat with remaining lemon juice and spices.
6// Evenly place the chopped cashews on top of the breasts. Sprinkle with a little more of each spice if you would like (I did!)
7// Cover the baking dish with foil and place in the oven.
8// Bake for 35-40 minutes, or until the chicken is cooked through and the juices run clear.
9// Plate the chicken and top with the juices and cashews that remain in the pan.
{adapted from here}
"Change can change your life. You'll never know unless you embrace it."
Check out more from my biffle's life: