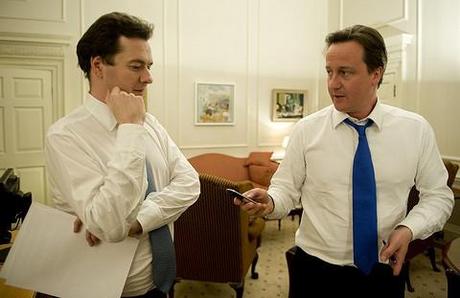 Chancellor George Osborne with PM David Cameron. Photo Photo credit: Andrew Parsons/Conservative Party
British Prime Minister David Cameron is at the center of a cash for access scandal after an undercover sting by The Sunday Times showed Tory co-treasurer and lead fundraiser Peter Cruddas discussing on film how much money could secure access to the PM and, crucially, influence government policy.
Cruddas was secretly filmed by reporters posing as overseas wealth fund executives considering making a donation. He told them that a donation of £200,000 or £250,000 gave "premier league" access to party leaders, including private dinners with Cameron and Chancellor George Osborne. He also suggested that any such donor could have their feedback on political plans fed back to the party's policy committee.
Cruddas swiftly resigned but the scandal hasn't gone away with him. Cameron has promised a "proper inquiry" into donations but Number 10 has declined to reveal whom the PM has invited to dinner at his home – after a request made in the wake of the donor row – because such details are "private," reported the BBC.
Why so serious? Mark Adams, a Labour supporter and lobbyist who prompted The Sunday Times investigation, told the BBC why, in his view, the issue was so serious. He said: "Of course we would all expect that in return for the money there is at least an invitation to a reception. But actually having that level of access, private access – it seems the prime minister is reluctant to even reveal who these people are who dine with him privately – I find it truly astonishing that that level of access, secret access … can be achieved in return for a substantial donation."
Toxic for the Tories. "Cash for access is toxic for the Tories" argued Iain Martin at The Telegraph. Martin said while few voters will be surprised or shocked that rich donors pay to gain access to political party top brass, the Cruddas affair "crosses a very important line … in terms of the clear separation that should exist between party business and government. The Conservative party's co-Treasurer was not merely offering donors the chance to attend large fundraising dinners, he was dangling the possibility that for a sum slightly larger than the UK average house price, a businessman could expect" to influence government policy. Martin slammed Cameron's "recklessly ill-judged open door policy" and said the scandal "fed into a damaging perception that the supposedly detoxified Tories are doing favours for their rich friends at a time of austerity. This 'Cash for Cameron' scandal makes it even easier for Labour, whose hands are equally dirty on party funding, to make the charge stick that in office the Tories are reverting to type."
Perfect Conservative nightmare. "The Tories are no closer to shaking the taint of privilege issue," argued John Harris at The Guardian's Comment is free. " This fiasco fits so snugly into recent political events that it surely represents the perfect Conservative nightmare," said Harris, who noted that five days after Osborne delivered "the most butterfingered budget in living memory, it's worth reflecting on its ongoing aftershocks, and how neatly they fuse with the Cruddas affair." Harris said the "questionable idea that the rich would somehow end up paying five times as much tax as they did pre-budget has vanished. Instead, the cut in the top rate is the prism through which every controversial aspect of the budget is now seen, from the ubiquitous granny tax, through the prospect of an extra 1.3 million paying the 40p rate, to Labour's under-reported claim that £500m has been taken out of the NHS."
Party funding is unusually dirty. In a 26 March editorial, The Times (£), insisted that "the potency of the allegations" against Cruddas "is that they mix the murky world of party funding and the even murkier world of lobbying into one unholy miasma. The notion that investors and businessmen should seek access to government should not, in itself, be considered suspect. But the funding of parties should not be a route by which this occurs. The principle of external and informed parties being able to influence government policy can, in a pragmatic and transparent age, be robustly defended. What cannot be defended is the suggestion that policy could be surreptitiously bought." "British politics is unusually clean, rather than unusually dirty," reassured the editorial. "Yet, via party funding, the opposite impression is too often given. The actions of people like Mr Cruddas damage faith in our democracy and, in doing so, pollute it. It is not nearly enough, time and again, to hide behind the mantra that no laws or rules were broken. Whether the sin is in the letter or the spirit, the upshot is the same. Even if influence has not truly been bought, propriety and integrity have surely been sold."
Radical reforms to party funding needed immediately. In an editorial, The Independent urged Cameron to "turn the scandal to good account." "The spectacle of a Conservative Party treasurer hawking access
to the Prime Minister in return for 'premier league' donations to
 the Tory coffers is deplorable. But it is hardly surprising. And
 until party political funding is reformed, and big-money donations 
outlawed, such shady practices will inevitably continue." The newspaper said now is the time to make "radical reforms to the way political parties are funded … Spurred on by the appalling behavior of Mr Cruddas, Mr Cameron should take a lead, putting his full weight behind Sir Christopher Kelly's recommendations that donations be capped at £10,000 per year and that parties be largely funded by the state … The Coalition has trumpeted its ability to make hard choices on the economy. It is time to take equally tough decisions elsewhere. No more excuses. Mr Cameron must live up to his rhetoric, make amends for his treasurer, and do what he can to clean up politics."
Killer sting. Melanie Phillips of The Daily Mail celebrated the role of the British free press in exposing Cruddas: "With the vultures of regulation hovering over British journalism, what this episode has underlined is the cardinal importance in a democracy of a Press that is truly free to expose wrongdoing. Indeed, this 'sting' is but the latest in a long tradition of journalistic exposés of illegality, corruption or other abuses … The number of such exposés over time is vast." Phillips concluded that, "the benefit to a democracy of journalists sailing close to the wind in the public interest is simply unquantifiable. And yet their freedom to do so is now under threat as a result of the head of steam against the media currently being ventilated by the Leveson inquiry."