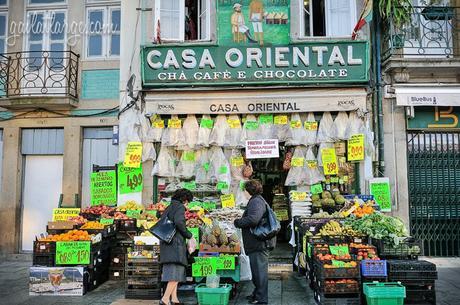 Casa Oriental is one of Porto's most famous grocery stories, with its high visibility near Clérigos Tower and its old-school frontage. I remember walking in for the first time on my inaugural trip to Porto, trying to buy some items for a potluck dinner at Paulo's place (does that ever sound odd to say, now that I live here). I was surrounded by the distinct smell of dried codfish and utterly bewildered by the products. It appeared to me that only locals shopped here because everyone seemed to know exactly what they were buying. Indeed, that may have been the case that day since Casa Oriental has been around for more than a hundred years.
Founded in 1910, Casa Oriental started off carrying products from the former Portuguese colonies in Africa and the East (hence the name). The store kept the original sign that says "tea, coffee, and chocolate" even though the selection expanded to Portuguese regional products after the Second World War. The current store owner, José Maria Gama, took over after The Revolution and decide to make bacalhau its specialty.
It is bacalhau season right now, in case it's not obvious by these pictures. All those things hanging from the door frame are dried, salted codfish of varying prices, from €9.99/kg to a whopping €24.95/kg. All the ones you see here are from Norway and Iceland. Once in a while I'll see some Canadian codfish in the supermarket, but it's a tiny minority1. Bacalhau is a popular fish year-round in Portugal for cultural reasons, but traditionally it is the main food event on Christmas Eve. This seasonal demand drives up the prices, like turkey at Thanksgiving or Christmas in the U.S. and Canada.
Portugal has large supermarket chains like Jumbo, Continente, Lidl, Pingo Doce, Intermarché et al, but I appreciate very much that these small grocers manage to stay in business despite the Goliath competition. As long as the Portuguese keep eating bacalhau, iconic shops like Casa Oriental can continue to serve their clientele.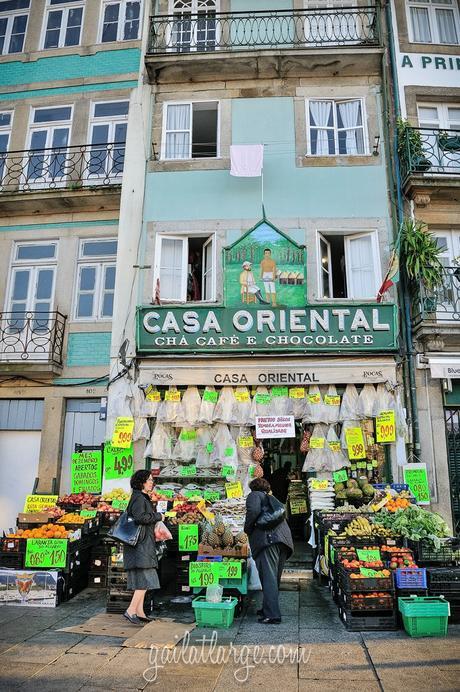 December 5, 2015
Album: Portugal [Autumn 2015]
 Due to overfishing in the '80s, the Canadian government imposed a ban on fishing Northern cod in 1992.

↩
Possibly related posts:
What's For Lunch, Porto? When Paulo and I had lunch in Porto last Saturday, I took a picture of this sign to give blog readers an idea of what the people of Porto consume for...
Francesinha Festival, Porto I've mentioned the francesinha before, with photos, the first time I ate one in June 2011. I also had a huge one in May, but only took phone pics. What...
Tea For Two: Rota do Chá, Porto Paulo and I were all over Porto today but there are too many photos to put them all in one post, which means the teahouse we visited today gets its...
Sunny Saturday In Gondomar: A Preview We are sunburnt! The first week of March! Is this normal?? If it is, I'd better be more prepared with the sunscreen, because apparently I wasn't wearing enough. The forecast showed...
Portugal Restaurant Week: Real Indiana Foz Last night I arranged for Casa Aguiar to partake in Portugal Restaurant Week by making a reservation at a local Indian restaurant to thank my sister-in-law for looking after our pooch while we...