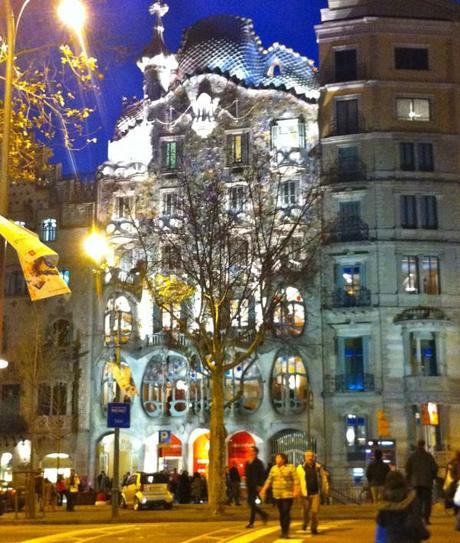 Casa Batlló is my favorite Gaudi house.  It was a restoration of a late 1800s house and was very controversial, breaking many by-laws when it was built between 1904 – 1906, but the city was won over with this Art Noveau in the extreme.  In 1906 the Barcelona City Council had named Casa Batlló as one of the three best buildings of the year.  Today it holds UNESCO World Heritage Site status and is a popular tourist attraction with cheap Barcelona hotels nearby.  Here's why:

Visitors will be hard pressed to find a straight line in Casa Batllo – but it's fun to try!  The irregular oval windows are one of my favorite features of this Gaudi house – providing an interesting aesthetic  both from the outside and the inside and outside.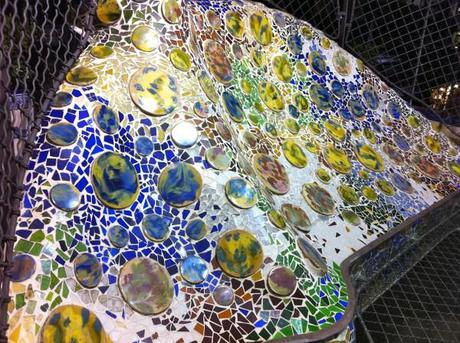 Mosaic tiles on the terrace resembling the serpent bunch of Park Güell, a park in Barcelona that is another one of Gaudi's designs.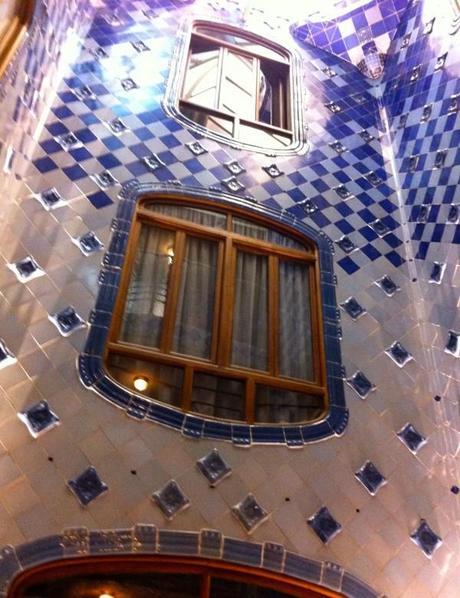 Casa Batlló is square shaped with an open center and an innovative design.  Windows near the top, which receive more light are smaller, and gradually become bigger on the lower levels, allowing more light to enter.  Gaudi also applied the same principle with color, featuring more dark blue tiles near the top of Casa Batlló, gradually fading into more white tiles with blue accents further down.  Artistic genius in my humble opinion and another one of my favorite features of this Gaudi house.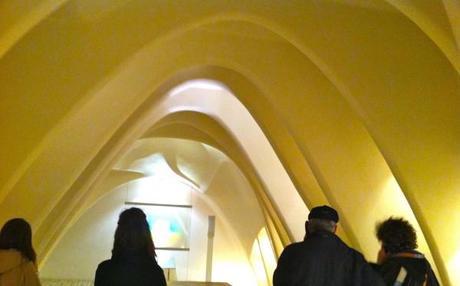 Arches make  common appearances in Gaudi's work, both in hallways and in this church inside Casa Batlló.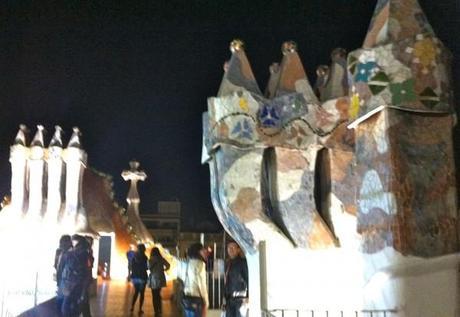 The roof of Casa Batlló is also a highlight with its eye catching mosaic tiled chimneys and the view over Barcelona isn't too shabby either.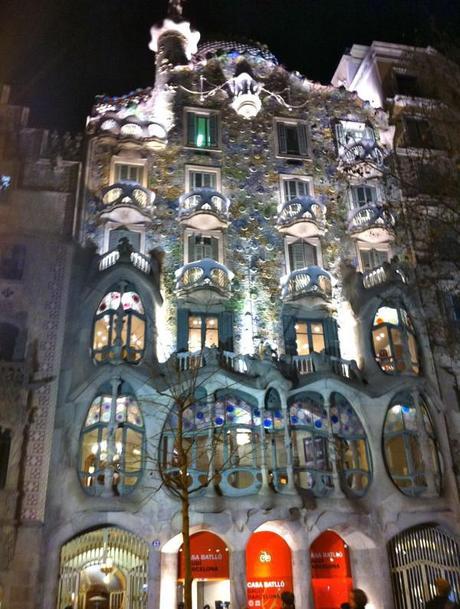 There's a theory that the rounded feature to the left of center represents the lance of St. George, the patron saint of Catalonia.  Near the top of the roof the lance is plunged into the roof which represents the back of a dragon.  I looked for this, and despite wanting to see it, I didn't.
Know Before You Go to Casa Batlló:  The Gaudi House
Admission is not cheap at €18.15 which includes a self-guided audio tour available in multiple languages, but I felt it was money well spent IF you like architecture and are as fascinated with Gaudi as I am.  (You can save money by booking your accomodation through HostelBookers.com)
Casa Batlló is open from 9:00 am to 9:00 pm, 365 days of the year.  The last entrance is at 8:20
Casa Batlló is a popular tourist attraction so try and go at off-peak times when possible.  I went at 7:30pm on a Thursday in February and there were ~50 other people there.  I can only imagine how busy the Gaudi house would be on a weekend or during the summer.
Casa Batlló is located at 43 Passeig de Gracia, a couple of blocks down the street is another famous Gaudi house, La Pedrera, which also holds  UNESCO World Heritage Site status