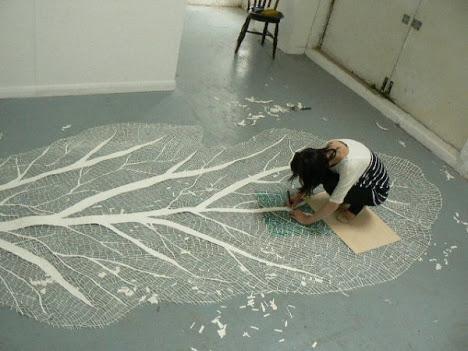 Paper and its manipulation is the focus of Carte Blanche, a unique new exhibition at
London Print Studio
. This highly anticipated exhibition features designers, book artists, architects, engineers and sculptors using paper expressively to create images and objects. John Phillips, Director of LPS, comments:
"Carte Blanche is a reflection of what's going on across boundaries in the art and design worlds. Some objects on display have structural qualities: manipulating, embossing and cutting paper provides a new way of looking at the world. Much of the work is dream-like and poetic."
Artists featured are Sophie Arup, Lutz Becker, Alison Bernal, Rogan Brown, Clare Bryan, Coo Geller, Howard Gardener, Fiona Hepburn, Kaho Kojima, Brigitte Parusel, Rob Ryan, Calum Russell, and Carol Wyss.
Opening Party Thursday 25th April 2013 6.30pm - 8.30pm
Exhibition runs from April 26th - June 29th 2013
London Print Studio - 425 Harrow Road - London W10 4RE
Image :Fiona Hepburn