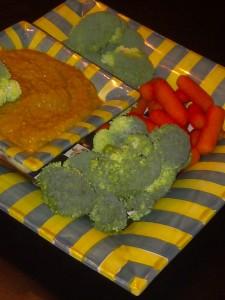 As someone for whom salad is a dietary staple, how I flavor my veggies matters a great deal. So many dressings are made with a dairy base, sometimes even where you least expect it, like in some honey mustard blends (it's neither honey or mustard...discuss) so I am pretty particular about what I choose. Besides, dull and bland? So not the trendy vegan style...
I love red wine or blasamic vinegar with a touch of olive or flax seed oil, apple cider vinegar and oil on salads with a little fruit, sometimes just a little lemon juice when I'm adding avocado, or sesame ginger when I've got snow peas and water chestnuts...but a true favorite is carrot-ginger dressing. I've been known to buy pints to-go when leaving a Japanese restaurant, but I finally found a recipe I liked that I can make at home. It's a fresh and clean, slightly salty topping served traditionally over lettuce, but my friends also loved it as a tasty dip, holding up well with raw veggies, as an alternative to hummus (or non-vegan types like ranch for company.)
This recipe is simple but a warning ~ carrots and your blender do not easily get along! You will need to do this in small batches so as not to break the machine!
2 large carrots, peeled and sliced carrots
1 small shallot, diced
1 2-inch piece fresh ginger, peeled and thinly sliced
1/4 cup barley miso (you can try others for different flavors)
2 TBSP rice wine vinegar
3/4 tsp sesame oil
1/3 cup water
1/3 cup flax seed oil
Place all ingredients in a blender except the water. Chop until the pieces break down and then puree, slowly adding the water and blend until smooth. The dressing will keep in the refrigerator for up to 3 days.
For more of "The Trendy Vegan" lifestyle, join the fan page on facebook or follow @vegandthecity on twitter