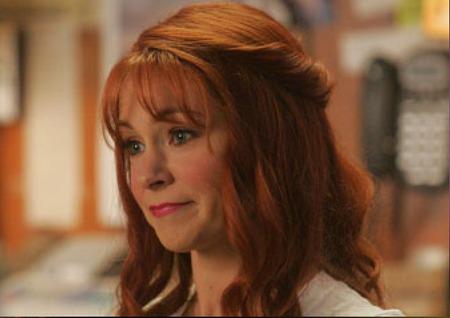 The staff at Merlotte's has been through a lot with dead bodies in the parking lot and staff members dying, but Arlene Fowler has been through more than the rest.  Her boyfriend Renee turned out to be a psychopath and just when she found love again with the super sweet Terry Bellefleur, she found out she was pregnant with Renee's baby.  When we last saw Arlene at the end of Season 3 she was struggling with the idea that her baby might be a monster and Terry was trying to keep her together.  Ology.com spoke with Arlene's portrayer Carrie Preston about what we can expect to see in Season 4, what she loves about Arlene and her other projects.
Preston tells Ology that the cast is very close and although they do not work together as much as they did at the beginning due to the rapid increase in cast members, they still maintain a closeness.
Filming began for Season 4 in November and when asked what we can expect to see with Arlene this season, Preston replies:
"She is face to face this season with something that hasn't yet been seen on the show, and it definitely gives everyone involved a fright."
Preston says she loves playing Arlene and that her strength, loyalty to her kids, and her work ethic are her strongest features.  She jokes that she keeps trying to pursuade Alan Ball to make Arlene some kind of supernatural being because they have more fun but so far its a no go.  Preston would love for Arlene to have more opportunity to interact with the vampires either in a positive or negative way   When asked about her favorite Arlene moments Preston gives the following list:
Season 1… in the pilot episode when Lafayette, Arlene and Dawn spar with each other in Merlotte's.
Season 2… when Arlene tells Tara that she thinks she "date raped" Terry Bellefleur.
Season 3 … when Arlene confesses to Holly that she doesn't want the baby and doesn't want to lose Terry because of it.
Season 4 … you'll just have to wait to see!
So is Preston Team Eric or Team Bill?  Neither – it seems she has equal love for both vampires!
Preston's husband and brother are both actors and she says this provides them a lot of dinner conversation discussing their projects as well as the trials and tribulations of being an actor.
Aside from acting Carrie has also tried her hand at directing and recently finished the film "That's What She Said" which stars Anne Heche, Marcia DeBonis and Alia Shawkat.  The movie is a female take on the bromance idea and is Preston's second time in the director's seat.  When asked how directing has changed her approach to acting, she says:
"Being a director has made me hyper aware of what goes into creating a scene on film. I  admire that process much more than I did before I started directing. And I also understand the technical things that are appreciated in editing an actor's performance together, and I try to honor those things."
The interview finishes with asking Carrie her top 5 "Ologies" and these were her answers:
My dog Chumley, my nephews, filmmaking , indie music, my iPhone.
To read the complete interview with Carrie click here.
We would like to thank Ology.com for sending us this submission.  Truebloodfansource.com is always looking for news to post so if you have any tips, suggestions or articles you would like to see on our site, click here to contact us.
Source:  Ology.com – Interview with 'True Blood' Actress Carrie Preston
Photo Credit: HBO, Inc.