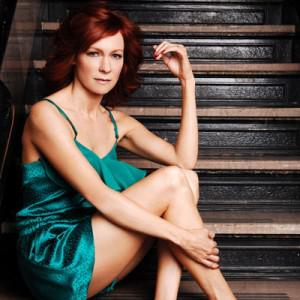 True Blood's Carrie Preston, who plays Arlene on the show, will probably have her hands full this season with the new baby coming and all the witches we expect to see.
In an interview with Daemonstv.com, Carrie talks about the show and the other projects she did during the hiatus, such as directing and starring in other films.
She recently finished directing her second film, That's What She Said, a comedy about three women having a very bad day in New York City, she plays over-burdened single mom Lynette in the indie comedy-drama Bag of Hammers which has been well-received at film festivals, and she even found time to do two episodes of CBS' The Good Wife this past season.
Excerpts from the interview are below.
Daemon's TV talked to Carrie Preston about playing a mortal in the very supernatural Bon Temps, Arlene's anxiety over her baby, and how directing films makes her a better actor.
Like the ads say, the waiting has sucked, but now season four of 'True Blood' is coming up fast.
Carrie Preston: It sure is. It doesn't feel fast to us because we've been working on it since November, but, yeah, all of a sudden it's almost here.
Why do I have the feeling that Arlene's life is going to be even more complicated this season?
Carrie Preston: Well, your instincts are right, but when is it not complicated on 'True Blood'?
When does season four pick up in terms of where season three left off? Is there a time jump?
Carrie Preston: We're not allowed to talk about that, but I will say that the problems Arlene was having when we left her have only gotten bigger. She had just unsuccessfully tried to find a way to let the baby go using some witchcraft which was a pretty drastic choice on her part, but Arlene felt like she needed to address the problem. It's that the sins of the father might be visited upon this child that's inside of her. Things are pretty black and white with Arlene and in her mind she's carrying an evil baby. So when that didn't work it really did make things even more complicated for her, and frankly, scary for her. But I think she had to accept that the baby was definitely on board and seems to want to stay. I think the conflict in her is going to continue to grow.
There was such a sense of desperation in Arlene at the end of the season that I'm very worried about Arlene and Terry.
Carrie Preston: I know. Arlene and Terry are such a good couple, and I think it's exciting that people root for them, particularly Arlene because she's been in such a horrible situation before him with this man that she thought she knew, Rene, who turned out to be absolutely horrible. It really made her question her judgment in men and made it hard for her to trust anybody. So, when Terry keeps showing up and keeps being present for her it really meant a lot to her. I think she didn't want to do anything that would mess up the best thing that she ever had.
My favorite scene from season three was the one that I had with Holly [Cleary], Lauren Bowles, in Merlottes. When Arlene was crying and was so upset and scared about telling Terry about this baby, and also the shame that she felt, admitting that she didn't want the baby. Now, this is a woman who comes from a world where abortion is not accepted. It's not something that she believes in. I think it was a really, really brave thing for her to do, to try and engage something alternative. But the minute that didn't work I think that was it. She's not somebody who's going to walk into a clinic.
How is it playing a mortal when almost all the other characters around are something else entirely?
Carrie Preston: I know. Well, sometimes I think all the supernaturals have more fun, but at the same time I think it's extremely important for the show to have the characters like Arlene and Terry and Hoyt and Jason even, who are a reminder that this is a real world and a present day world, albeit a fictitious world. It's contemporary. They are people and they're southern and they're small town and they're American. They're dealing with these previously inconceivable creatures that they're surrounded with. I think if the show didn't have the mortals it wouldn't be as effective because there would be nothing to contrast the supernaturals.
I think Arlene not only helps ground the show, but also sometimes stands in for the audience–
Carrie Preston: I think so, too, yeah. I think that they rely on that, and then she also grounds the show with some humor which I think is important because otherwise I think the show would take itself too seriously. I think what is successful about the show is the alchemy of drama and comedy and horror and sex. It's this very interesting blend of all those things that make people continue to watch it because it's pretty singular. There's not anything else that's quite like that. The humor sets it apart from the 'Twilights' or 'Vampire Diaries' or those other things.
This is being called the 'Season of the Witch'. Is Arlene involved in that aspect of things?
Carrie Preston: She's going to be dealing with some things that she never expected, and actually, the audience hasn't seen yet on the show. So that's exciting. The show likes to keep upping the game which is what I think makes the show so creative and the writers so brilliant, that they continue to keep the audience on their toes. They keep throwing curveballs and Arlene is definitely dealing with one of those curveballs this season.
To read the rest of this interview go to:daemonstv.com