Carrie Preston chatted with the Huffinton Post about what's in store for Arlene in season 5.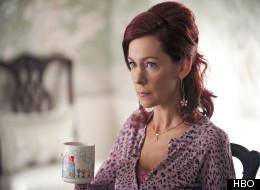 Just when you think Arlene has seen the worst of her issues … Terry really is a ticking timebomb!
I know, I know … it's very interesting though because we haven't really delved into Terry's past yet. Not really. We've done a little here and there, but this season, we're definitely getting a look at what he went through in Iraq, so I think that's really interesting. Of course, we do that "True Blood"-style. [Laughs.] It's definitely going to cast a bit of a shadow over Terry and Arlene this season.
Fans want Arlene to be happy, but do you think anyone could really live a happy, normal life in Bon Temps?
No. [Laughs.] I don't! I think that in order for anything to work on television, you have to have conflict. Nothing can be too happy or it's boring. People don't want to watch that — they want to watch things that are exciting and dangerous and sexy and have tension. And our show does that very well.
Would you consider directing an episode of "True Blood"?
Stephen Moyer, who plays Bill, directed an episode this season. He had shadowed last year, and he directed our eighth episode this season and did a bang-up job. He was so good on set. So yeah, they're totally open to it … but I don't know if it's in my wheelhouse. I definitely love being on the show, and I'd love to shadow a director and see if it feels like something that I'd want to do, but the things that I'm drawn to are definitely much smaller, character-driven, actor-driven kinds of pieces. "True Blood" is so epic and has so many special effects and all that stuff — I'd definitely need to educate myself on how that happens, start to finish, but I'm certainly not opposed to it. I do think if I went to them next season and said, "Hey, mind if I latch on to a director and watch it from start to finish?" I feel certain that they'd be very open to that.
You mentioned next season … which isn't a spoiler really, but it made my ears perk up. With so many characters, and more new people added every single season, are you ever amazed that Arlene has lasted so long?
Yes, of course! It's a real blessing. I think that the show needs Arlene and Terry and Andy Bellefleur and Hoyt — the people who are playing the townspeople — because otherwise there is no context for the vampires and werewolves and everything. There's no context for them if we don't continue to remind the audience that they are existing in a real world, albeit fictitiously drawn by the writers. I think Arlene is a real representative of that world, and also of how judgmental that world can be. I'm aware of that function that she has in the show, because that's out there in our country. If you want to, you can read into our show a lot of social and political themes. And if you don't want to, you can just look at it as a fantasy soap opera, and that's why I love it because it exists on both of those levels.
We need to have conflict within the world — it needs to be more complicated than "Vampires are hot and sexy!" We need to also realize that they are killers, by design, and some of them are mainstreaming, but some of them really don't want to be mainstreaming. The theme of this season is definitely about that kind of identity I think: What loyalty do you have? Where do your loyalties lie?
Read the complete interview at the source Huffington Post.