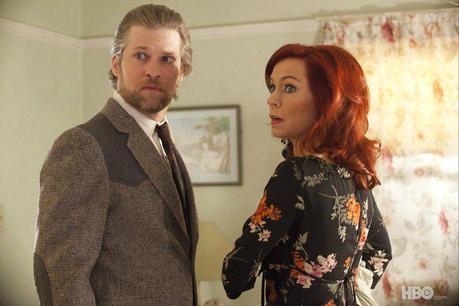 Recently Matt Richenthal of TV Fanatic recently had the opportunity to chat with Carrie Preston (Arlene Fowler) about what's next for her character and family as True Blood season 4 continues. In this week's episode, we witnessed Arlene, Terry (Todd Lowe), and the children have to deal with a fire in the middle of the night. Baby Mikey also was nowhere to be found when Terry and Arlene were trying to exit the house and they ended up finding him out on the lawn by himself with a mysterious figure no one but the baby could see behind him.  Carrie hinted at who the mysterous figure was, dished about working with a baby, and told Matt some of what to expect for the rest of the season.
Of who exactly the baby saw on the lawn after the fire, she told TV Fanatic that the figure will appear again.
 "That's not the last that we'll see of her. And it will affect other storylines, as well. From there, the show goes to an interesting place it hasn't gone to before."
But according to TV Fanatic, that's all she would say on the subject so as not to give anything away.  It gives readers something to think about at any rate. While the story with baby Mikey has been interesting on screen, acting with a child that young isn't always easy according to Preston. Despite how good the baby was, she said someone was behind the camera with a toy to catch the child interest for the scene.
Overall however, she is pleased with where the story line is headed because it keeps viewers wondering:
"They aren't sure if it's Arlene being her histrionic self, or if there's something really wrong with the child."
To read this interview in its entirety please click here.
True Blood Fan Source would like to thank TV Fanatic for sharing their interview with us. We're always looking for things to post. If you have an article that you would like to submit please email us.
Source: TVFanatic.com- "Exclusive: True Blood Star Teases Mysterious Figure"
Image Credit: HBO, Inc.