Carrie Preston's (Arlene Fowler) Elsbeth Tascioni is going to return to The Good Wife this Sunday. E! Online recently caught up with the actress to discuss Elsbeth's run in with the Lockhart/Gardner crew at an American Bar Association Conference in New York City. The episode is entitled, "A Few Words," which is appropriate given that I already have a few words about Elsbeth posing with a man in a bear costume in the middle of Time Square. The interview discusses Preston's surprise at keeping that particular scene, filming in Times Square, who Elsbeth would call now that Alicia is no longer with Lockhart/Gardner and more.
Carrie admits that when she read the scene with the bear in the script, she thought it would be cut. But she's happy to know it made it into the episode even though it still doesn't top the treadmill desk scene from earlier in the season:
"I cannot believe they kept that. I really am so surprised. "When I read it on the page, I thought, 'Okay, that's going to get cut.' Then we got on set, and we were doing it, and I said, 'Are you sure they're not going to cut it?" And they're like, 'No, they're not going to cut it.' So we did it, and I thought, 'Ok, they're going to cut it once it goes to air.' So I'm happy to hear they didn't."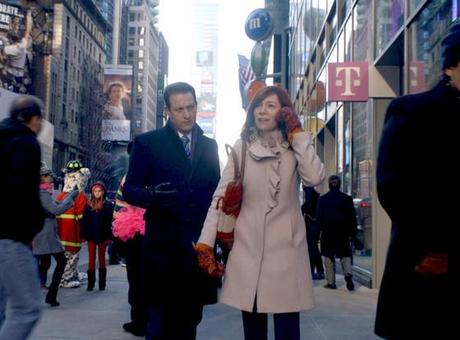 As for filming in the famous Times Square, Carrie tells E! Online's Chris Hardnick that it was wierd because it's not like this location can be shut down. So as a result, lots of tourists end up walking into the scene while they filmed:
"… They were kind of able to block off one little area in front of the store where we were with the bear, and they had a few background players there, but everybody else was just tourists, so they were stopping and coming into shots and wanting to take our pictures, and we just kept rolling with it. It was a particularly beautiful day, although it was freezing. It was at least lovely, so it was very exciting to look down and see, you know, the back of my neighborhood, and here I am shooting this wonderful TV show in the middle of my neighborhood with all these tourists around. It was pretty fun though. Josh [Charles] and I kept going in the stores and stuff to keep warm, so we got very familiar with the…I think it's the Verizon store there, or AT&T or something."
Living in New York herself, Carrie has never had any run-ins with the costumed people in Times Square who try to get people to take pictures with them and charge them for it. She did however find it very funny that Elsbeth would participate:
 "…I thought it was pretty hilarious that they would think to put something like that in there, and that they've got this running gag that Elsbeth is obsessed with bears, which is so funny to me."
Elsbeth obcession with Kalinda also returns in this Sunday's episode. She finds the PI fascinating, Carrie says because of how subtle the character can be. You never really know what she's thinking. As for whether Elsbeth would call Will or Alicia for a case, it really would depend on what the case called for and who would win it:
 "…I don't really know. I mean I would think that she would call Alicia, but I could see how she could call Will too. I mean, you know, she's going to call whoever it is that she feels like is going to win the case. She might not show it, but she's extremely competitive, and so depending on the case and what the case calls for, she would go to whoever she thought would be able to win it. I don't think she would pick over likability."
Click here to find out if Carrie is Team Will or Team Peter and what she thinks about her stint on Fox's the Following!
Source: E! Online.com- "Carrie Preston Returns to The Good Wife With Anti-Semitic Bears and a Love for Kalinda"
Image Credits: CBS

Print

PDF