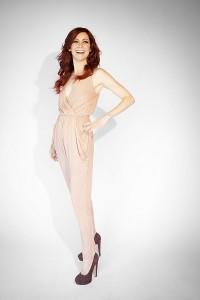 True Blood's favorite waitress, Arlene is played by Carrie Preston and she has been interviewed by All Things Girl in two parts.  Carrie talks about lots of things, like being a director of a new film and also about True Blood. See a portion of that interview with Elizabeth Rago below:
I have always found something memorable and mysteriously dashing about the redheads that grace the earth and our interview with cover girl Carrie Preston (True Blood, The Good Wife) illustrates this bright performer has no qualms about tackling a new project or character.
Rooted with a background in theater, armed with the spirit of a dedicated entrepreneur and radiantly poised between her creative and personal lives, Carrie Preston is a powerful addition to her visual vocation.
Tell us three things we might not know about you.
- My favorite candy is Raisinets
- I'm in charge of all things tech in my house
- I used to work for the Girl Scouts of America in Macon, GA
You fell in love with being a visual artist at an early age. As a young girl, what excited you about acting?
I grew up in the South, a place I am still proud holds my history. I started doing plays when I was 9 years old, following in the footsteps of my older brother John G. Preston, who is still an actor as well. I considered myself a character actor from the very beginning when I did plays at the community theaters and in school. Even then, I wasn't Alice in Wonderland or Snow White or Cinderella. I was the Mock Turtle, Maid Dim Witty, and the kooky FGM (Fairy God Mother), complete with ass pad and glasses. I relished the controlled chaos of theater. I could let loose and become someone else but still return to myself at the end of the day.
What artists have influenced you and what intrigues you most about their work?
Sketch comedians like Carol Burnett, Lily Tomlin and Flip Wilson were big influences on me when I was a kid. I was enthralled with how they could transform themselves and then make audiences convulse with laughter. Meryl Streep is my all-time favorite actor, which I realize is cliché, but I stand by it. She's an illusionist that is constantly grounded in truth. I was at Juilliard with Viola Davis, and I have admired her ever since the first time I saw her at school. Her ability to tap into an endless well of emotion is breath-taking. I have always admired the character actors like Celia Weston, Catherine O'Hara, and Mary McDonnell, who was once a teacher of mine.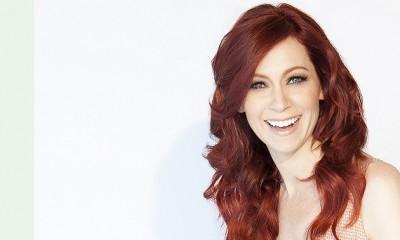 You studied at Juilliard, where the curriculum is intense and you are trained to hone your craft in professional theater. In what ways did you change as an actor after your experience there? Did the environment change you personally?
I went to Juilliard after having gotten an undergraduate degree in theater from the University of Evansville in southern Indiana. So I went to Juilliard to really deepen and expand the work that I had already been doing in undergrad. My work grew exponentially while I was there, especially in voice and speech. As an actor, your speaking voice is one of your biggest instruments, so the more range you can get, the more it will help you when you are creating a character, especially on stage. Personally, being there allowed me to get used to New York City within the womb of the school. And I made friendships there that are still very much a part of my life now.
You are in the midst of two very popular series (True Blood, The Good Wife). How do you manage your schedule to balance the demands?
I'm someone who feels most alive when I'm being creative. I actually thrive on juggling a lot of things at once. I don't know what to do with myself when I don't have a bunch of things on my schedule. I just like exercising all of my creative muscles. The more, the better. Luckily The Good Wife uses me when True Blood doesn't need me, so it seems to be working out so far!
All actors draw upon life experiences to play roles. How is "Carrie" similar and different from "Arlene" on True Blood?
I definitely get to transform in this one, what with the red hair, the fake tan, fake nails, caked make-up, enhanced bust line, high heels and tight clothes. Not what comes to mind when I'm thinking about my own character, to say the least. Still, I grew up around people like her, and I feel alarmingly comfortable playing her. We are both strong women. I'm not narrow minded like Arlene, but we have the same work ethic. We both deeply care about what we do for a living.
And the similarities and differences between Carrie and Elsbeth?
I love playing Elsbeth. I love the nimbleness of her mind. She has so many things going on inside of her, and I think each and every thought gets equal time and attention in her mind. She can be solving a case and admiring your blouse and thinking about picking up her dry-cleaning all at the same time. I guess my mind can juggle a lot of things, but Elsbeth's mind is definitely more mercurial than mine. She also doesn't seem to have much of an edit button, and I definitely try not to share every thought I'm having.
The roles seem so different. How do you get into each character?
I don't think about other characters when I'm acting. I pretty much stay connected to the one at hand. I mainly focus on what the character wants and how she goes about getting what she wants. And I trust the writing to take me where I need to go.
What's a typical day in the life of Carrie Preston when you're filming True Blood?
I shoot a lot of my scenes in Merlotte's, which takes place on a sound stage in Hollywood. The exterior of Merlotte's is on the backlot of the Warner Brothers lot. If we are shooting the interior bar scene, I'm usually one of the first actors to arrive. I like to get into costume first and then they bring me in to have my makeup and hair done. This can take a while with me because there's so much to be done. Then we rehearse the scene on set while the crew watches and sets marks. We finish getting ready while the crew lights the stage and rehearses camera moves with our 2nd Team, who stand in for us actors. Once they are ready, we come back and commence shooting the scene from every angle. This repeats all day until the day's work is done. We take our lunch about 6 hours after the main crew are called, which is about 8 hours after I arrived. So "lunch" could be 1am in the morning, if you are having a night shoot.
What's your favorite part of filming True Blood?
I love that I have gotten to play the same role in different situations for 5 years. I've never had that experience. There is a comfort and familiarity with the role, the crew, the actors, and that is very rare. On days that I get to work, I'm genuinely excited when I wake up in the morning.
Read more of this two part interview by going to: allthingsgirl.com