Carrie Preston has taken on the ruby red hair of Arlene for, at least the duration of her part on True Blood. As you may remember she used to wear a wig for when in the role of Arlene, but evidently she decided it would be easier to just dye her hair that color.  That color takes some care and she gets it from Style Bar in Beverly Hills!
Below is the story of Carrie getting ready for the premiere of Bernie at the Los Angeles Film Festival at the Style Bar.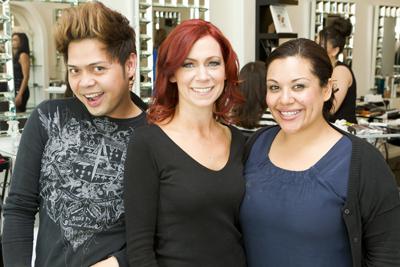 Carrie's red haired look
Preston arrived at the salon with less than an hour to get ready for the premiere. Style Bar Beverly Hills, known for their speedy, efficient and quality service, got her in and out just in time.
Since red hair can be prone to fading, Number 4 High Performance Hair Care products were used to protect her color and give her a glamorous look. Her style was created by Style Bar's Angela Elizalde.
Start with leave-in conditioning spray Number 4 Super Comb Prep & Protect to comb out and prep the hair.
 Apply Number 4 Blow Dry Lotion to damp hair before blow drying and setting the hair to create soft waves.
Rake Number 4 Texture Styling Crème through the hair to break up the curls and add natural hold.
Spray Number 4 Mighty Hairspray all over for a finish with staying power.
"The look I was going for was a soft romantic look," says Elizalde. "She didn't want to look 'too done' but loved the idea of curls. She was a very down to earth person with a southern charm. She was easygoing and let me do what I thought fit her best."
Preston's makeup was created by Style Bar's Bong with Mac Cosmetics
Eyes: Mac's "All that Glitters" shadow was applied as a highlighter; "Satin Taupe" in the crease; "Carbon" for the smoky look; and "Vex" up to the brow bone.
Lips: Lined with "Sublime Culture" with "Kinda Sexy" lipstick and "Love Nectar" for the gloss.
Cheeks: "Dainty" blush was applied to the apples of the cheeks and used with "Soft and Gentle" for a little shimmer.
For her nails, Preston usually goes au natural, but chose Essie's "Coral Reef," a hot pink with orange undertones, for her toes.
source: modernsalon.com