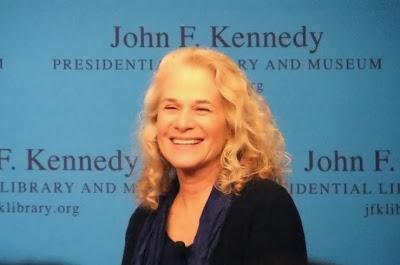 (The picture above of Carole King is by Michael Borkson.)
Songwriter/musician/singer Carole King (whose Tapestry album is one of my all-time favorites) has come out in favor of clean power -- energy that does not pollute the environment. She did this in an article for The Huffington Post. It's a good article, and I recommend it. Here is part of what she had to say:


I've been fortunate to call central Idaho my home for almost forty years. It's not easy to convey the beauty of living where humans can coexist peacefully with bears, wolves, deer, elk, salmon, eagles, and other wildlife. But something profound is changing in these central Idaho mountains. . .


The scientific evidence is irrefutable. As the planet warms, Idaho and much of the West will see more and more fire. But we're also seeing the effects of climate change in other parts of the country. The affected citizens will never forget the physical and economic devastation wreaked by Superstorm Sandy. Residents and business owners in coastal communities such as New York, New Jersey, and New Orleans, and on islands, are losing a little more land every day from rising seas. . .


I don't understand how men and women who want the best for their children and grandchildren can be so blind to the consequences of their actions. 

There is nowhere to hide from global warming.

 Expanding fossil fuel development into our last remaining wild ecosystems will destroy the remnants of our natural heritage and trigger even more climate disruption. Why would people do this when there are energy solutions right in front of them: clean energy from wind, solar, and high-tech energy efficiency. Some individuals who have done well in the oil industry have been smart enough to invest in clean power. They know that clean power will revitalize rural economies while addressing climate change. If the oil industry won't come along, we need to put pressure on them through the courts, in the media, and in peaceful demonstrations in numbers too great to ignore. And we need to vote for legislators who understand that the future health of our planet, our economy, and our families lies in Clean Power. . .