Since working on my Ultimate Tofu Recipes Roundup, which an amazing number of you contributed to, it's only natural that I would still have tofu on my mind.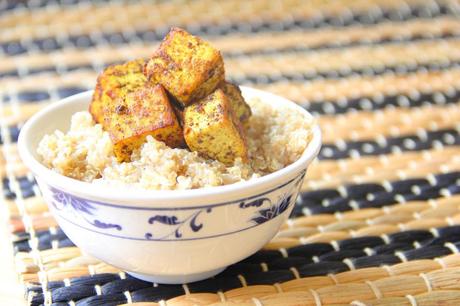 I've cooked a few things with tofu since then that I'm excited to share with you but, as I ate this Caribbean Tofu with Coconut Quinoa a couple of sunny Saturdays ago, I knew I would have to share it first.
Mixing lime and coconut with earthy spices and fiery chillies may just be the best way to carry them into a summery savoury dish.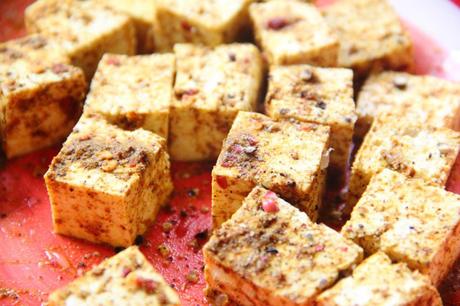 To give the tofu pieces a bit more of a bite and to encourage them to crisp up properly, I pressed the tofu for almost an hour to make it extra extra firm. If you don't have that much time though, half an hour will suffice to get a good firm texture.
Just as tofu does, quinoa soaks up flavours so well so you could add a little coconut milk as it is cooking to make it extra coconuty and give it a creamier texture too.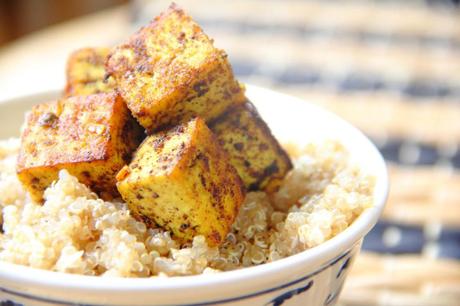 Serves 4
Ingredients:
For the tofu:
800g extra firm tofu; drained, pressed for at least 30 minutes, and cut into cubes
2tbsp olive oil for cooking
For the marinade:
2tsp ground coriander
1tsp turmeric
1tsp ground all spice
1-2tsp chili flakes
1tsp black pepper
Juice of 2 limes
For the quinoa:
200g quinoa, well rinsed
350ml water
2tbsp desiccated coconut
Method:
1. In a large bowl, mix all of the marinade ingredients together until they form a smooth liquid.
2. Add the cubes of tofu to the bowl and coat thoroughly in the marinade. Set aside.
3. In a large pan, bring the water to the boil. Once boiling add the rinsed quinoa, stir once, and simmer for ten minutes. At the this point, add the desiccated coconut, stir well and simmer for a further five to six minutes. If at any point it begins sticking to the pan, add a little extra water.
4. After adding the coconut to the quinoa, heat the olive oil in a frying pan over a medium-high heat.
5. Once the oil is hot, carefully place the cubes of marinated tofu into the frying pan. Fry for around five minutes, turning frequently, until it has browned on all sides. Remove from the heat and use kitchen paper to remove any excess oil.
6. Remove the quinoa from the heat, set aside for two minutes, then fluff up with fork.
7. Serve as it is or with a sauce of your choice.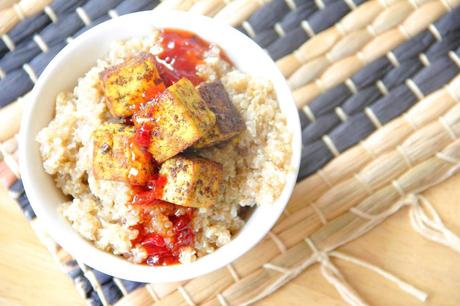 Lime and coconut really are a combination that always make me think of warm weather; what flavours remind you of summer?