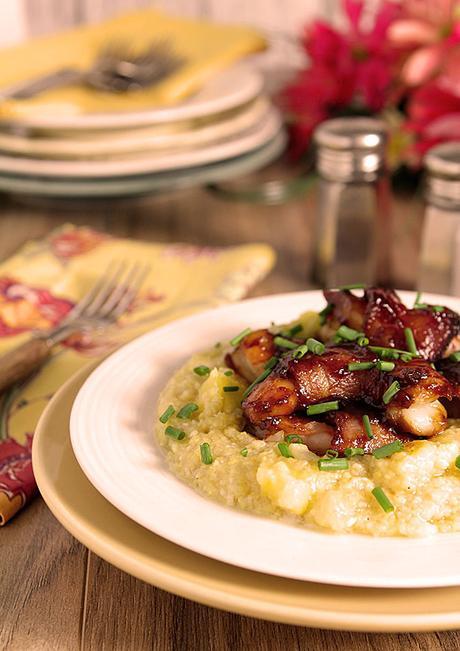 This months #ProgressiveEats is dedicated to Caribbean Food. Or at least my idea of Caribbean since I've never actually been there except in my dreams. It would be dreamy too wouldn't it? Rum, seafood, spices...all things I love. This theme was the brainchild of Colleen who blogs at The Redheaded Baker. You have her to thank for my blending a love of all things southern with a taste of the islands in this Caribbean Shrimp and Grits.
I've always loved Shrimp and Grits; maybe my favorite dish from the years I lived in North Carolina. I remember the first time I tried them was when my family joined 4 other families in a huge beach house on Emerald Isle in North Carolina. We went to a loud, raucous place for dinner and shrimp just off the boat was smothered in a barbecue sauce and served over some creamy, cheesy grits. A moment to remember certainly and I still love them.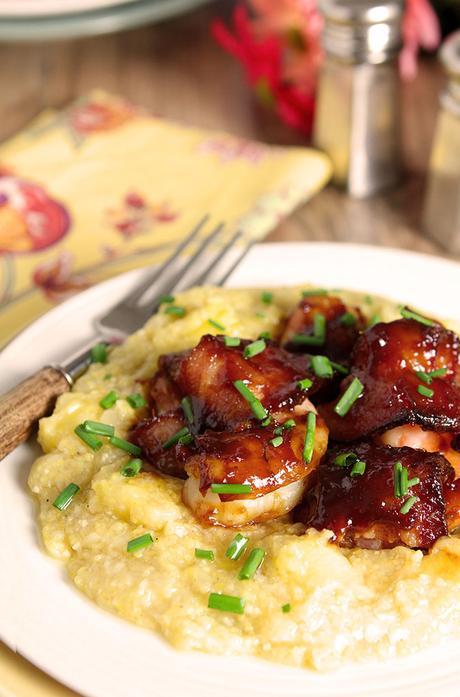 This version is similar but not. I've added some pineapple, rum and brown sugar to both the barbecue sauce AND the grits and added just a hint of cumin for some spice. The shrimp were big beautiful ones that, while not fresh caught (we have mountains instead!), were large and luscious. Was my choice of bacon a Caribbean influence? I don't know but come on...it's BACON! Surely they have pigs on the islands right?
I had actually planned to grill these babies but the weather turned stormy and so I opted to bake them instead. My HUGE grill used to sit right off my patio at my old house and I used it year round because I would be standing under cover when grilling. The porch at this house is considerably smaller and the grill is down the steps on the ground level since I just don't have enough space for it and as a result I don't use it near as much, which is very sad.
I'm not going out in snow or rain or even 100 degree heat to grill. I think it's time to punt for sure so don't be too surprised if you see me announce my new grill soon...I'm serious. I want something a bit smaller and I want it back on my patio...stat! Weber...here I come!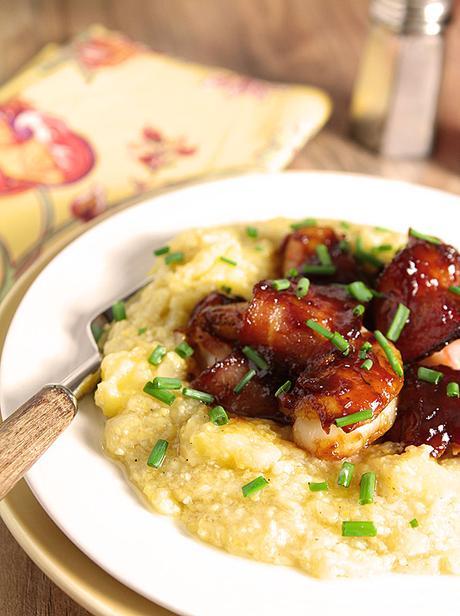 I finished shooting the photos for this dish in late afternoon. Too late for lunch and too early for dinner; so what could I call it if I ate them anyhow. Linner? Dunch? Whatever...they were just so good. I love the combination of creamy grits with the juicy bacon covered shrimp topped with a nice mildly spicy sauce. I'll often ask neighbors to run over and grab something I've made if they need dinner. Not tonight. Nope...squirreled away for another night or five. Yes I could eat these EVERY NIGHT!
Maybe not a totally authentic Caribbean dish but one that evokes the flavors of the islands in a dish that is near to my heart...pretty perfect in my book. Hope you'll try these Caribbean Shrimp and Grits soon!
Serves 4 - 6 Servings
30 minPrep Time
30 minCook Time
1 hrTotal Time

Save Recipe
Ingredients
Instructions
Notes

Welcome to Progressive Eats, our virtual version of a Progressive Dinner Party. This month we're featuring dishes native to or inspired by the islands of the Caribbean. Our event is hosted by Coleen who blogs at The Redhead Baker. Our dishes this month are inspired by the cuisines of Jamaica, Cuba, The Bahamas and more. You'll certainly find a delicious recipe to add to your repertoire!
If you're unfamiliar with the concept, a progressive dinner involves going from house to house, enjoying a different course at each location. With Progressive Eats, a theme is chosen each month, members share recipes suitable for a delicious meal or party, and you can hop from blog to blog to check them out.
We have a core group of 12 bloggers, but we will always need substitutes and if there is enough interest would consider additional groups. To see our upcoming themes and how you can participate, please check out the schedule at Creative Culinary or contact Barb for more information.
Taste of the Caribbean Progressive Eats Menu
Main Course
Veggies/Side Dishes
Desserts