Every time I fix salmon, I have this flashback to my time on the FOX TV show, MasterChef~~each contestant had one hour to prepare their signature dish, then when it was your turn,  you rolled your 'masterpiece' (well, you thought that)  through the Wizard of Oz doors, down this seemingly endless dark long hallway.  You were like Maximus the gladiator going into the den to either survive or be slaughtered.
Suddenly you turned a corner and another door opened.  There sitting  in three directors' chairs on an elevated platform were the judges~among them Gordon Ramsay.  None were even remotely cordial nor happy to see you~~the icy tense atmosphere did what it was intended to do psychologically and emotionally~~scare the crap out of you~ These "experts" were ready to taste your food and to pass their 'judgment' on it.
When it came Chef Ramsay's turn to taste my food, he stepped off the 'throne'…he slowly walked up to me, his steely eyes not flinching and mine locked on his, we were only a couple of feet apart…he looked at me and without one shred of compassion, he said in his Scottish accent with an authoritative tone, 'When I cut into this salmon, it had better been moist, tender and pink inside.'  Yes, this was a quasi-conscious nightmare!
Flash forward to now, and I can honestly say that I'm always up for a new way to fix salmon!  Not only is salmon super magnificently tasty, but it's also healthy on steriods!  This combination of flavors will seduce your tastebuds making you really think you're in the Caribbean.  Even though the MasterChef experience was gut wrenching at the time, it hasn't affected my love of salmon!
The spices that make up the seasoning come together and create the warm island breeze~then you've got the touch of native island music in your mouth when you savor the mango cucumber salsa~all you need is your favorite beverage and maybe, yes, just maybe, a side~~really this dish can stand alone.  And, because it's so colorful and healthy, you can have seconds and thirds and not worry one iota! Now, that's what I call boholicious!  And, you can be assured that any salmon I prepare for my guests will be moist, tender and pink inside, unless, of course, they ask otherwise, and that's perfectly fine!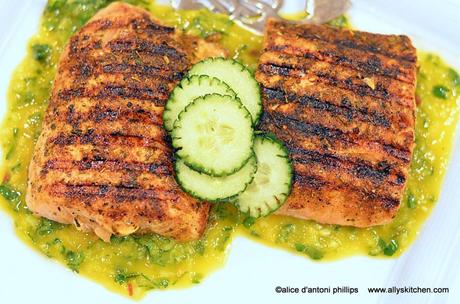 Serves: 4 
What you need:
1.75 lbs of salmon (trim off flat sides) about 1 ½" to 2" thick in the centermost part
4 tbl Caribbean Seasoning (Note:  This is the recipe of Google+ Food Star & master of Caribbean cuisine, Larry Fournillier.) ~~ click here
a Cooking Spray
Salsa (NOTE:  Make ahead and refrigerate)
2 cups DOLE thawed mango pieces
¾ cup English cucumber pieces
2 dried small Serrano chilis diced (can substitute 1 tsp red chili flakes or another hot sauce)
½ tsp sea salt
½ tsp pepper
½ large lemon juice & zest
1/3 cup chopped fresh cilantro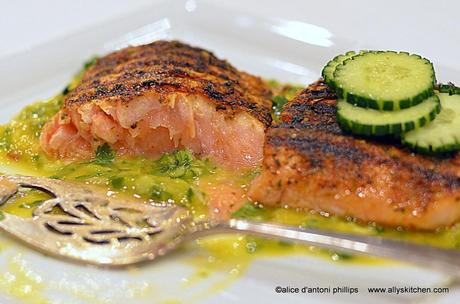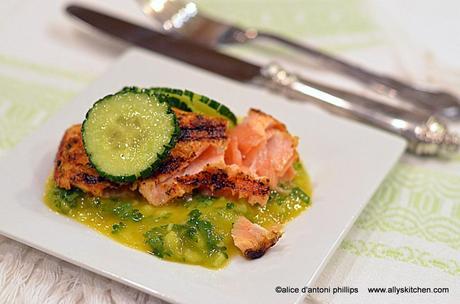 What you do:
Coat the salmon pieces with cooking spray.  Sprinkle on the Caribbean seasoning and pat into the meat.
Spray a cast iron skillet with cooking spray.  Put on medium high heat and let it get hot.
Put the salmon skin-side up in the hot skillet, cover with a lid and sear for about 3-4 minutes.  Take a long handled metal spatula and gently flip to the skin-side down.  Reduce heat to medium, cover and cook another about 3 minutes.  Remove to a plate and cover with a lid for a couple of minutes.  The salmon will be translucent and tender on the inside.  Cook longer if you like your salmon more done.
Salsa: Combine the mango, cucumber pieces, serrano, salt, and pepper in a food processor and give a few pulses to make a thick liquid like mixture.  Remove and add the cilantro.  Refrigerate and serve with salmon.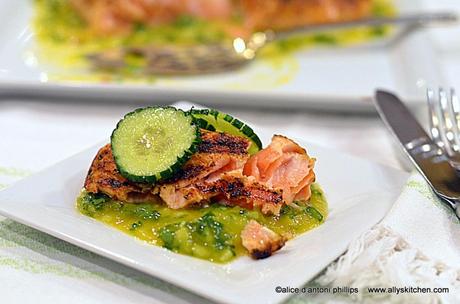 ©alice d'antoni phillips   www.allyskitchen.com

Comments
comments