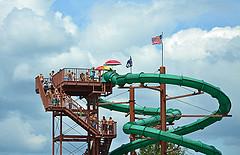 One of my kids broke a bone on June 11th while traveling down a water slide.  It was the collar bone, which will require about 3 weeks to heal.
When I mentioned this on my Facebook page, more than a dozen midlife friends reported having broken a collar bone that now healed.  I'm happy to hear all of these reports.
A few reported that decades later, they do have some issues.  Some have a little trouble sleeping on that side and reported feeling a little cold-weather-related pain.  These long-term affects seem very manageable.
Nevertheless, I find myself hovering. It's been a week since the fracture, and I'm still functioning as an extra pair of hands. The doctor's orders were "Keep that left side immobile."  OK!
I've read a great deal about caregiving, but I'm living it for the first time.
So I'm setting up an adapted bedding area, opening jars,  fastening the seat belt in the car (which clicks on the affected side), and shampooing hair (my teen is wearing a large plastic bag in the shower for privacy while I help).  
These are called
Activities of Daily Living or Instrumental Activities of Daily Living
.   I really get the "daily" part now.
During the first two days after the fracture, I found myself slipping on self-care. I was having trouble getting enough food, sleep and alone time.
How do family caregivers manage?  
And I can now see the potential power in caregiving support groups, especially online ones. Fortunately, my teen came up with an idea for using the trash bag. If this were a long-term caregiving situation, I'd be spending a little time each day swapping ideas with other caregivers.
And this diagnosis is much more manageable than others.  I recently received a review copy of
Showering with Nana: Confessions of a Serial (killer)...Caregiver by Cathy Sikorski
.  The author cared for her nonagenarian grandmother while also caring for small children.  That's an education in caregiving.
I need to know this information now, but since serving as a caregiver, I've had trouble reading at my normal rate of a book or two a week. I have read the first chapter.  Sikorski offers a great mix of humor and insight.  I'm eager to read more.
(OK, now I get why caregivers take a long time to follow through on my reading recommendations.)
All my best to those of you offering caregiving for longer than the 3 weeks that I will be helping my teen.  May you find time to eat, hydrate, sleep, shower and use the bathroom yourself.
Related:
Non-Medical Home Care
ADLs and IADLs