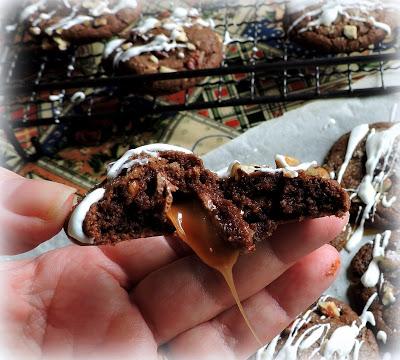 A dear friend of mine has had a granddaughter serving a Mission for her church over here in the UK for the past almost 18 months.  She is due to return home soon.  I can remember talking with my friend about my sending her some sort of treat while she was here from time to time, but somehow the time got away from us. It is surprising how quickly 18 months passes! I know first hand just how true this is, having served 18 months on a mission with my husband. (We finished this last December, and the time flew by like water through a sieve!)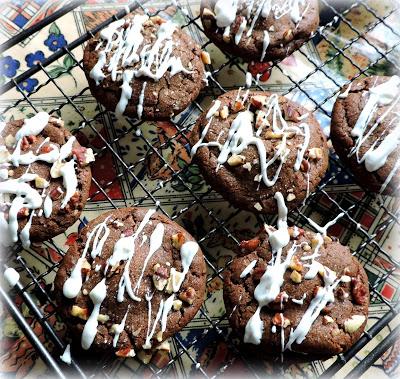 Today I had the opportunity to bake a sweet treat for this lovely young Sister Missionary and it is now making its way down to the London mission for she and her Sister companion to enjoy. Caramel Stuffed Chocolate Cookies.  I hope that they like them!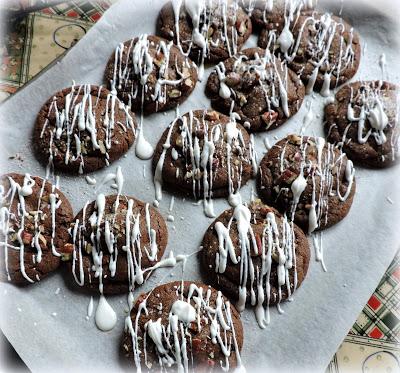 These are fudgy like a brownie  . . .  rich and chocolatey . . . and that is a tasty thing in and of itself, but  . . .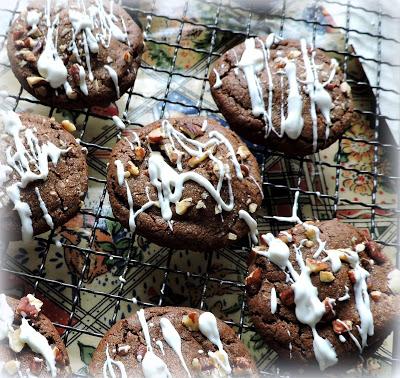 the dough is also studded with chopped toasted pecan nuts  . . . mmmm . . .  I love nuts . . . but that's not all . . .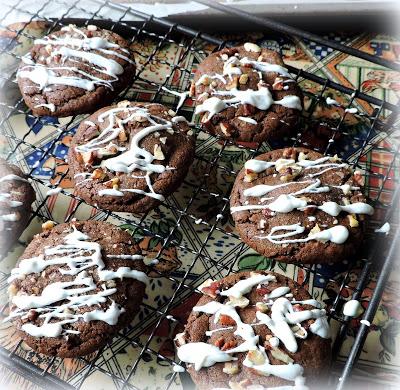 This moreish fudgy dough is wrapped around caramel stuffed milk chocolate rolo candies! Scrumdiddlyumptious!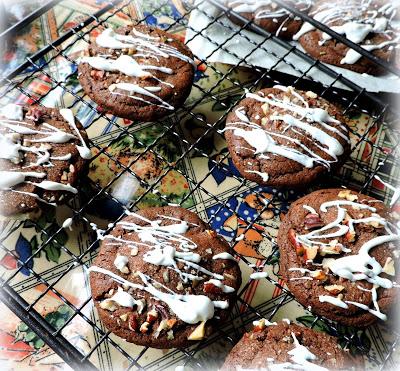 Then the tops of the cookied are dipped into a sugar/nut mixture prior to baking . . .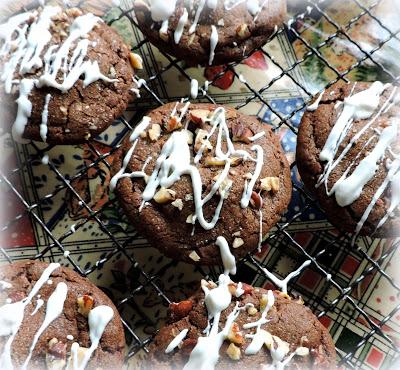 A white chocolate drizzle finishes them off . . .  what can I say?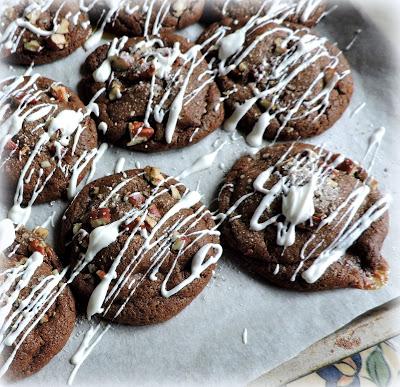 OH MY GOODNESS!  I had to test one to make sure that they were alright.  Todd and I shared one.  I was so glad that they were going to be living somewhere else.  These little babies are SERIOUSLY SCRUMMY YUMMY!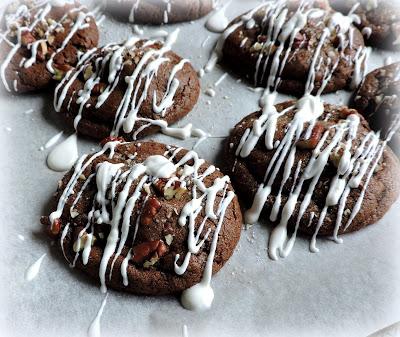 But don't take my word for it.  Bake them for yourself and see if I'm not right!  Adapted from a Recipe taken from the cookery book by Pillsbury entitled, "Best of the Bake-off Cookbook."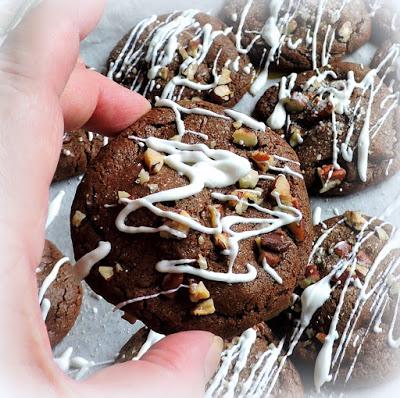 *Caramel Stuffed Chocolate Cookies*Makes 48Printable Recipe  
Chocolate crinkles stuffed with a baked in caramel filling, which makes for a delicious surprise! 
350g plain flour (2 1/2 cups)85g of unsweetened cocoa powder (3/4 cup, not chocolate drink mix)1 tsp bicarbonate of soda (baking soda)190g granulated sugar (1 cup)205g soft light brown sugar (1 cup, packed)225g butter, softened (1 cup)2 tsp vanilla extract2 medium free range eggs120g chopped toasted pecans (1 cup)48 Rolo Chewy Caramels in Milk Chocolate (9 ounces)1 TBS granulated sugar115g white chocolate chips, melted1 tsp white vegetable shortening 
Preheat the oven to 190*C/375*F/ gas mark 6.  Line two large baking sheets with some baking parchment.  Set aside. 
Cream togethr the butter and both sugars until light and fluffy.  Beat in the eggs and vanilla.  Sift together the flour, cocoa powder and bicarbonate of soda.  Stir this in completely to blend.  Stir in all but 4 TBS of the chopped pecans.  Mix these with the 1 TBS of sugar in a bowl and set aside.  Take 1 TBS of the cookie dough and wrap it around 1 rolo chocolate caramel, completely enclosing it.  Dip the top of the cookie dough ball into the nut/sugar mixture and set onto the baking sheet, sugared nut side up.  Repeat with remaining cookie dough and candies until all have been used.  Leave 2 inches between each ball of cookie dough on the baking sheets for spreading. 
Bake in the preheated oven for 8 to 10 minutes, until set and the tops look slightly crackled.  Remove from the oven and allow to sit on the baking sheet for several minutes before removing to a wire rack to finish cooling completely. 
Melt the white chocolate chips in the microwave according to package directions.  Stir in the vegetable shortening to melt.  Drizzle this over top of the cooled cookies.  Let stand until set.  Store in an airtight container.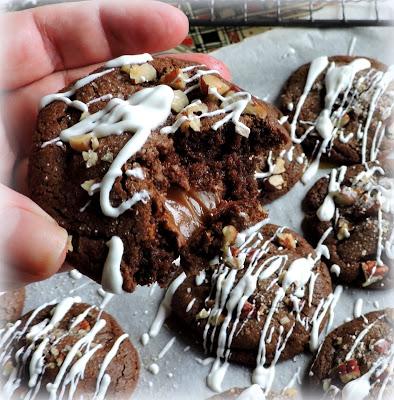 I really do hope that Sister Lawler enjoys these tasty cookies.  It's a good thing they have lots of opportunity for walking!  I have an idea however that they will be share and appreciated by more than just them. Its the missionary way. Bon Appetit!