A simple way to bring a festive touch to cupcakes takes nothing more than a holiday sucker and a cute cupcake wrapper. I've made these Caramel Corn Cupcakes for Halloween but they could easily be used for birthdays and other holidays too!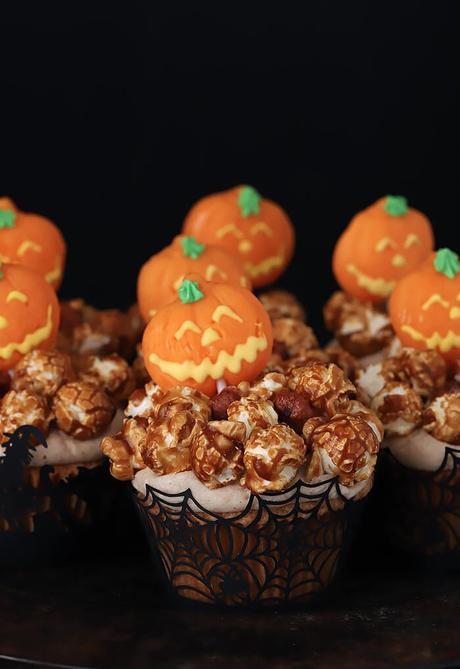 I do try to make a holiday themed post for most holidays but I struggle with Halloween. My apologies if you love Halloween but I never have. I blame The Wizard of Oz. I remember seeing that movie as a little girl and it scared me to death and anything witchy or related was not my thing, ever.
So my Halloween's as a kid always steered far from the scary and I kept that tradition with my own kids. I made all of their costumes and never a witch in sight. Unicorn, pioneer woman, one year one was a strawberry and the other a watermelon! I think I made a bat costume to go out trick or treating with them once...that was my limit. I'm a wuss, no problem admitting it!
And of course they did go Trick or Treating, I wasn't an evil mother! And I always made something special for the kids. When they were little we lived in a neighborhood with big lots and few homes and I could make homemade goodies for the kids because we all knew each other.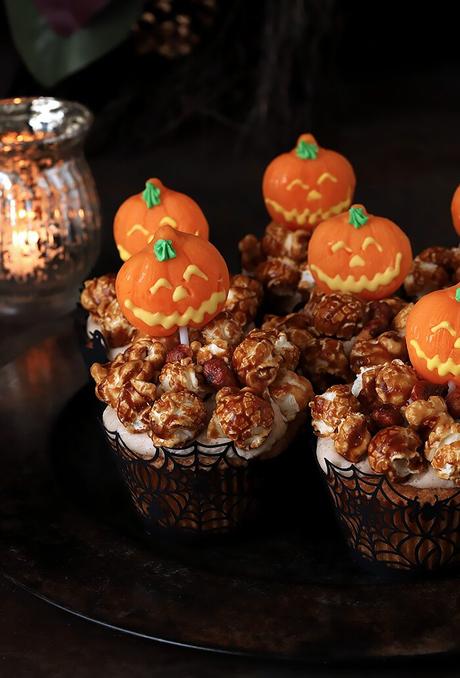 Once we moved to Colorado, that was no longer the case and we had so many kids in our neighborhood I quit with that personal effort because parents were cautious and homemade treats were suspect. So I became a room mom and my efforts went into making treats for their classroom instead. No blood and gore for me, cute ruled always!
Nothing much has changed; I still like them cute and much like these cupcakes, it was always the decoration that makes them festive for the holiday. If you don't need Caramel Corn Cupcakes for Halloween, mix it up with Christmas suckers and red cupcake wrappers. For a birthday choose any cute sucker for the birthday boy or girl and a matching wrapper.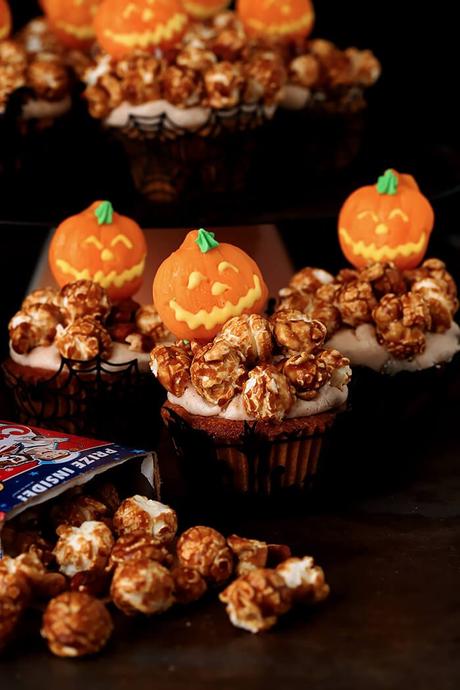 I had to make these Caramel Corn Cupcakes for Halloween twice...once I started handing them out to some of the kids on my street I realized that 15 were not enough; mom and dad wanted one too! I did make a significant change when I made them the second time around. First time it was a caramel flavored cupcake and a caramel flavored frosting with caramel popcorn on top.
They were good but a bit too sweet; second time around I went with a Salted Caramel Frosting and that was so much better; a little something salty worked wonders with all that caramel sweetness.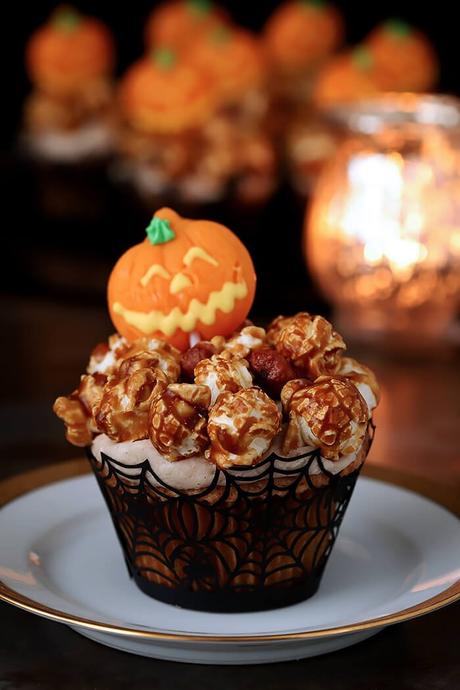 The Salted Caramel Frosting does have a couple of extra steps but it's worth it; you're basically going to be making a caramel sauce, letting it cool, and then adding powdered sugar and probably a bit of half and half or heavy cream to get the perfect consistency.
You can choose to simply spread the frosting on with a knife or use a decorating tip. The one I used for this is the simplest one, a Wilton 2A Round Tip; it just makes for a neater finish. I also purchased the decorations from Amazon.
The Pumpkin Suckers were cuter in person than their ad, and wrapped better than most glassware I receive...plus the kids really liked them. The Halloween Cupcake Wrappers came with three different looks and made a huge difference. Without them, I might have simply made the cupcakes in a black wrapper.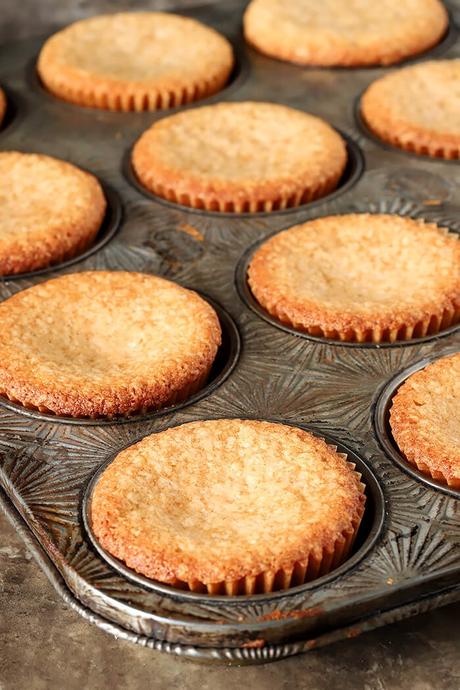 I also love using a cookie scoop to portion out dough for cupcakes. This cookie/cupcake scoop is the perfect size; I like it for large cookies and also for cupcakes. Fill it leveled at the top and it's the perfect size for average cupcakes.
I live at altitude so I never overfill; my baked goods are prone to do one of two things...spill out over the edges or dome too fast at our lighter altitude and then collapse in the center before the dough has set. I took a photo of these cupcakes after baking...even with a bit of a divot, for me, these are almost perfect!
I typically remove a bit of the leavening in a recipe and raise the oven temp; seems I might have removed too much baking powder but I'm OK with that. Much better than having it spill all over the pan and have them look like mushrooms! Don't worry, the included recipe is for sea level bakers, what we call 'flatlanders.' You don't have to fidget with it!
I also bought boxes of Cracker Jack from Amazon ...I wanted one for a photo. It took almost 6 boxes for 12 cupcakes so I would recommend that you buy a larger box or ready made caramel corn or make your own. Walmart has a couple of options if you shop there and I'm sure most grocery stores have bags of ready made caramel corn. Besides, the prizes are more worthless than ever!
I paid dearly to have that box pictured in the photo above, plus Cracker Jack has peanuts in it. Considering all of the kids today that have peanut allergies, I would have purchased something else if I hadn't already known that 'my kids' were OK with peanuts.
Whether it's for Halloween or another celebration, these are fun and tasty cupcakes, the most important part!
PIN IT! 'Caramel Corn Cupcakes for Halloween'