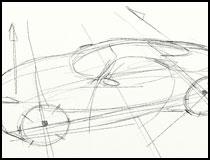 This video realised by Miles Waterhouse is promo of a series of tutorials in car design sketching, several aspects of car sketching are illustrated and explaned. From basics like wheels in perspective to shading, from quick use of paint to main illustration rules.
A video to see and mostly visit
Miles Waterhouse
web site for additional infos.