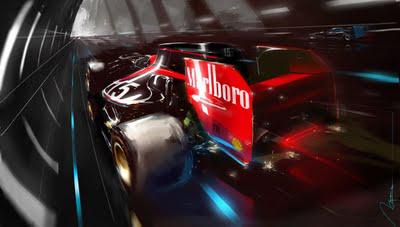 This
car rendering
is made by
Mike Kim
, I decided to publish it here because it has all ingredients to make an excellent
car design illustration
so for us it is a good example to study to learn and remember few rules to make a good illustration or rendering for our final
presentation
.
So the strong points here are:
-
Composition
on paper is very dynamic, the perspective is slightly tilted just few degrees is ok. The tunnel is a great environment to express speed and the exit placed on a forced left vanishing point is just right to accellerate the eyes viewer.
-
High contrast
and good balance of cold and warm lights and colors.
-
Car
is placed very well like is passing in front of a camera infact its linework is a bit distorted (lens of a camera almost a fish eye perspective), this element helps the dynamic effect of the composition.
-
Great deatailing
on the car that is the real subject so good detailing with strong
focal point
( around Malboro type graphic) this is the first reading subject.
-The  small far car on the right gives sense of speed but also reinforces the story of the composition. This is a race and that car is there to give us the perception of racing and passing. This is the second redaing subject.
I
suggest
you to go check Mike Kim's art works and
car design sketches
clicking
Mike Kim