Earlier on this week, I saw a competition which I thought would be fun to enter. The competition challenged me to make an holiday wardrobe capsule. M&Co asked bloggers to spend just £100 on an outfit of their choice and blog about it. To be a little different I decided to create Max and I an outfit each whilst spending just £100. I am thrilled with our outfit choices. Here is what I came up with for both of us to wear. The total of these 2 outfits is: £98.50.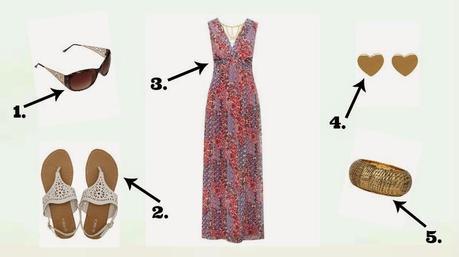 1. Filigree sunglasses - £10.00 To protect my eyes from the sun this summer I find it important to always carry a pair of sunglasses with me. I love the design of these, the medium sized lens are perfect. I also love how the sunglass legs match the gold theme which is linked to my outfit throughout. 
2. Cut out sandals - £15.00 The simple yet stylish design of these sandals will keep my feet cool this summer. In either black or white these sandals are likely to match any outfit. 
3. Animal print maxi dress - £30.00 I am always keen to catch a bargain, this dress is priced from £49.00 down to £30.00 which is a huge saving. I love the gold detail around the neck and I believe this dress can be dressed up or down depending on the occasion you are planning on wearing it. I love the bright colours, this dress will make you stand out from the crowd this summer. 
4. Heart stud earrings - £2.00 Priced at just £2.00 this gold earrings are simple but cute. Matching the gold theme of the outfit these earrings are hardly going to break your bank balance. Small accessories make an outfit and I think these are super stylish. 
5.Woven bangle - £12 I think this accessory jumps out and says look at me which is key in every outfit. I love this bangles simple design. The design means that the bangle can be used over and over again.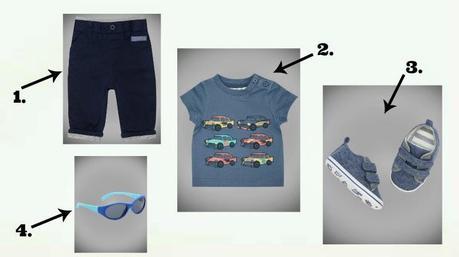 1.Roll up chinos - £11.00 Maxwell is an adventurous little boy and loves to run around and play. The material of these chinos will keep Maxwell cool this summer. The navy color is practical and will hide any dirt whilst playing. These trousers are smart and can either be dressed up or down.
2.Car t-shirt  - £3.50 This t-shirt is a bargain. Priced at just £3.50 the design of the t-shirt is simple but suitable for a car mad little boy. I love how the cars are bright, this t-shirt stands out from the crowd.
3.Jersey pram trainers - £8.00 To match the fun t-shirt these shoes feature a car design on the sole. These shoes look comfy for Maxwell and something which he would enjoy wearing. The velcro means that they would be easy to get on and off and they will also protect his feet and keep them cool in the warm weather. 
4.Blue wraparound sunglasses - £4.50 Maxwell adores wearing sunglasses, not only do they look cool but they also keep his eyes protected in the sun. Featuring a simple design these will be the perfect accessory to match Maxwell's outfit this summer.
I was amazed at how cheaply you could pick bits up from M&Co. The clothes are stylish and there is a huge collection to choose from. We had £1.50 left of our budget which I think is amazing as I managed to choose 2 full outfits for under £100. Maxwell and I would welcome this fab collection for our holidays which are in just 2 weeks time. I hope you have enjoyed Maxwell and I's outfit posts.